A volume pedal is a really useful tool that does exactly what the title suggests: it acts as master volume control on your guitar signal. This can be very helpful for creative purposes but also for matters of utility and practicality.
What a lot of guitarists may not know though is that a volume pedal can actually be rigged to function as an expression pedal for other effects units. It's a really cool thing to do and the nice thing about it is that it's super simple to set up.
To use an expression pedal for other effects pedals, you need to get a 1/4″ stereo to dual-mono splitter cable. Connect the 1/4″ stereo end of the splitter cable into the effect pedal's expression jack. Then you connect the splitter cable's mono ends to the output and input of the volume pedal.
And it's really as simple as that. It's worth mentioning though that it won't always work because some effects pedals are not compatible with every type of expression pedal. For instance, this doesn't work with my Line 6 M5 Stompbox Modeler, but it does work for any analog effects pedal with an expression jack. Let's get into how to set this up.
What You Need to Use A Volume Pedal As An Expression Pedal
1) 1/4″ Stereo to Dual-Mono Splitter Cable
This is the magical cable that you need if you want to connect a volume pedal to another one for use as an expression pedal. What makes this cable useful is that it has a stereo end (tip and ring), and it separates into two separate 1/4″ instrument cables (mono).
One thing that's important to remember about this cable though is that the two mono ends are different colors for a reason.
The black part of the cable is meant to be the output and the red part of the cable is meant to be the input. This is super important to get right because it won't work otherwise.
Initially, I struggled to get the volume pedal to work as an expression unit because I didn't have the splitter cable plugged in properly.
2) Effects Pedal with Expression (EXP) Jack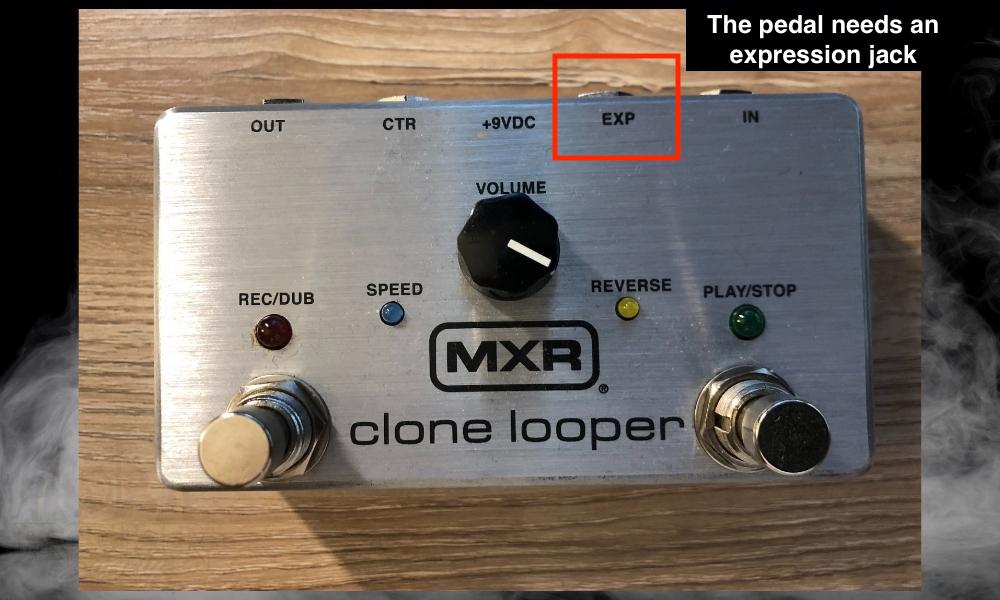 Not every effects unit has an expression pedal jack because not all of them even necessitate it. But many effects units do have an expression pedal port.
Most delay pedals, phasers, loopers, wah, volume, filters, modulation, whammy, pitch-shifters, and other pedals in this category will have an expression jack of some kind.
3) Volume Pedal
Nearly all volume pedals can be used in this capacity, however, the reason I don't recommend the FCV100 is that it introduces noise into your signal chain if you're using it as a volume pedal instead of an expression pedal.
I talked about this in my volume pedal guide. That said, it works perfectly as an expression pedal and doesn't introduce any noise into your sound at all.
I believe this has something to do with the fact that it doesn't require any battery power if you switch it to CV mode, the mode that allows you to use it for expression.
If you wanted a volume pedal that is an excellent volume pedal and an expression pedal, then, the aforementioned Ernie Ball VP-JR is a great choice.
How to Set Up A Volume Pedal To Function As A Expression Pedal
The infographic image above is a birds-eye-view of the process, but I'll show you a step-by-step tutorial on how to do this, that way you have a more in-depth guide for the process.
1) Connect Your Effects Unit To Your Guitar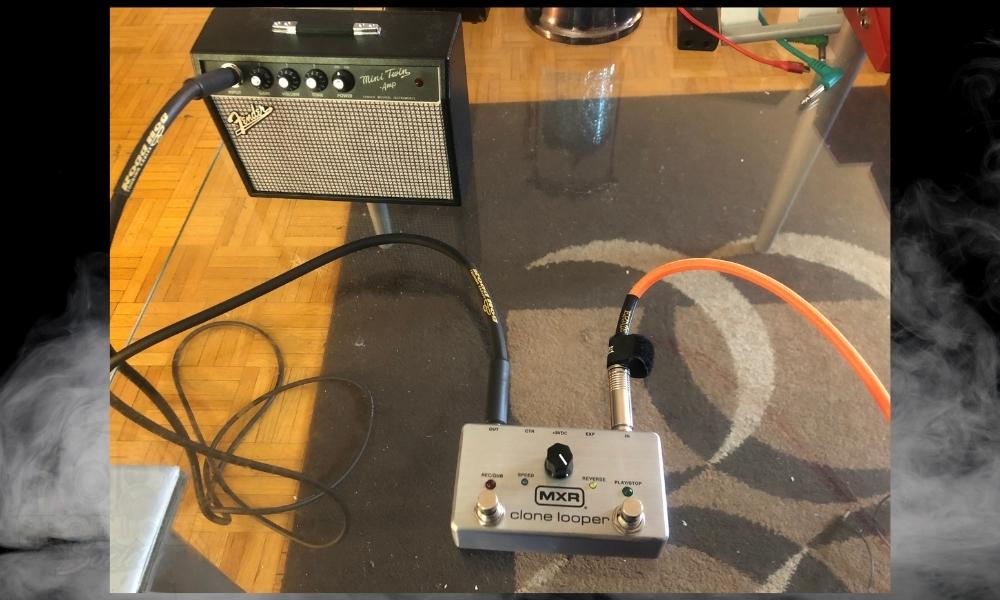 Most pedals accept a 9V alkaline battery, however, in some cases, they'll only take a power supply like the MXR Isobrick M238 (on Amazon/Thomann/zZounds) which is the one I use (my guide, FYI).
2) Run the 1/4″ Stereo End of the Splitter Cable to the EXP Jack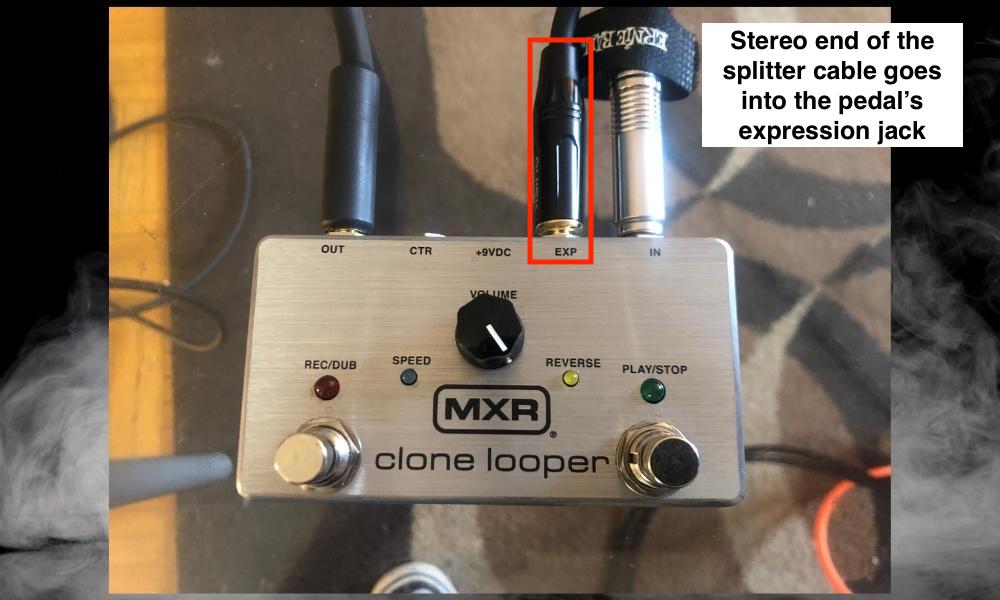 It has to be a stereo cable because it separates into two mono cables. Make sure the cable is plugged all the way in.
3) Connect the Output Cable to Output 2 on the Volume Pedal
If you've chosen the splitter cable that I recommended to you, you'll want to put the black end into output 2 of the volume pedal. Other splitter cables may have a different color or identifier scheme.
4) Connect the Input Cable to Input 2 On the Volume Pedal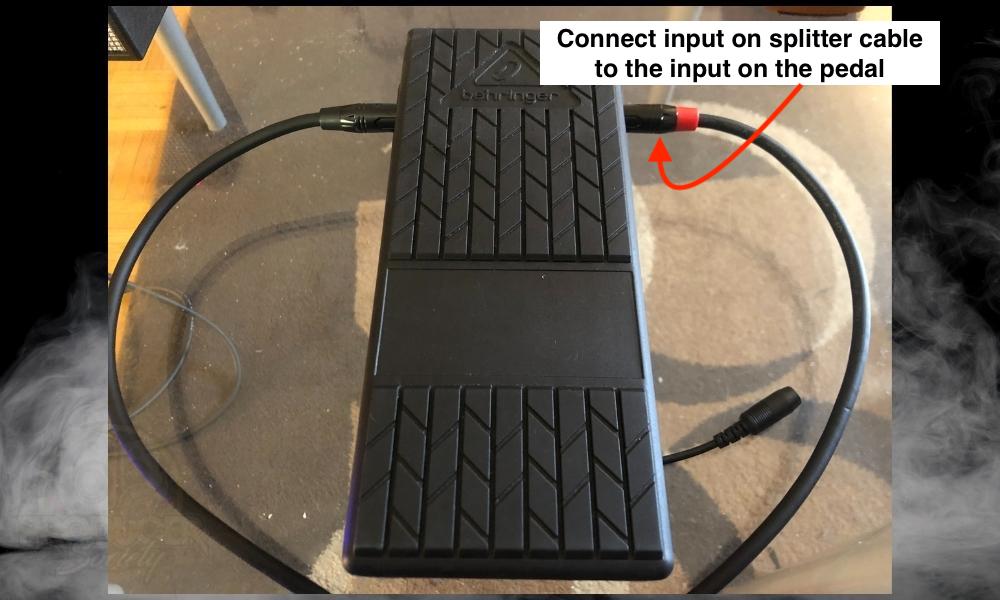 Whether or not you use input or output 2 on your volume pedal will depend on the specific configuration of that pedal. This is simply how it works on the FCV100.
And then finally, you have to actually turn on the appropriate mode for the volume pedal to work as an expression pedal.
5) Switch On the Volume Pedal's Control Voltage Mode
It's worth mentioning again that you don't have to supply the volume pedal with power if you want to use it as an expression pedal. This is a nice feature to me because then I don't have to use any of my Isobrick's ports to use an expression pedal.
And this seems to be a thing with expression pedals, in general, because most of them don't need external power to connect and then operate through the effects' unit expression jack.
Other Articles You May Be Interested In
Important Things to Note About Expression & Volume Pedals
1) You May Find An Expression Pedal to Be Better
While you certainly can use a volume pedal in the way that I've shown you, you may find it better to just get an expression pedal for the sole purpose of externally controlling your effects.
The nice thing about them is that they're easy to get your hands on. I have an M-Audio Expression Pedal which you can also find on Amazon/Thomann/zZounds.
Gear Mentioned
1) 1/4″ Stereo to Dual-Mono Splitter Cable (on Amazon/Thomann/zZounds)
2) Ernie Ball VP-JR (on Amazon/Thomann/zZounds)
3) MXR Isobrick M238 (on Amazon/Thomann/zZounds)
4) M-Audio Expression Pedal (on Amazon/Thomann/zZounds)