If you're looking to get into looper pedals, you've come to the right place. I love looper pedals and believe they're probably the most important thing any guitar player should have, other than a great teacher.
There are a couple of reasons for this which we can explore at another time, but you're probably wondering where to start, and more importantly, which one to get. I know there are a lot of loopers on the market.
Generally speaking, one of the most straightforward looper pedals to start with is the BOSS RC-1 Loop Station. The RC-1 has all the features that a beginner needs, it's reliable and durable, the battery life is decent, and it's a great introduction to BOSS loopers. It's also relatively inexpensive.
I can't really say that I'm a looper enthusiast, but I do have experience with a few different models including the RC-1, RC-5, and the MXR Clone Looper. Out of all of them, the RC-1 is definitely the easiest to use. I've explained to you why this is the case briefly, but it's worth really diving into these reasons down below.
The BOSS RC-1 And Why It's Great For Beginners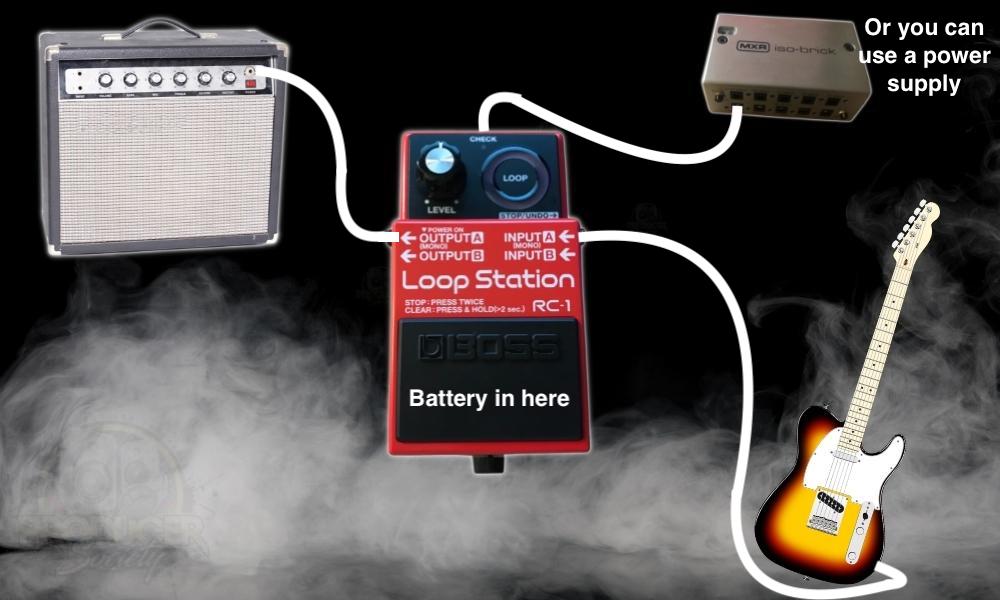 Having used all three of the pedals shown above, I can confidently say that the RC-1 has the smallest learning curve, although, the Clone Looper is pretty simple.
While the RC-1's display could be a point of complication, it actually serves to make the pedal easier to use, rather than more difficult.
I would say the ability to see what you're doing with the RC-1 makes it a step above the Clone Looper.
The Clone Looper has a reverse function though which I really like, and it's a very slick-looking pedal, like most of MXR's products. But I digress, let's talk about why the RC-1 is as easy as it is.
1) The RC-1 Has All The Basic Features of A Looper
As I've already said, the BOSS RC-1 Loop Station has all the features that a beginner who's looking to get into looping will need. Here's a list of everything the BOSS RC-1 is capable of:
Basic Looping and Playback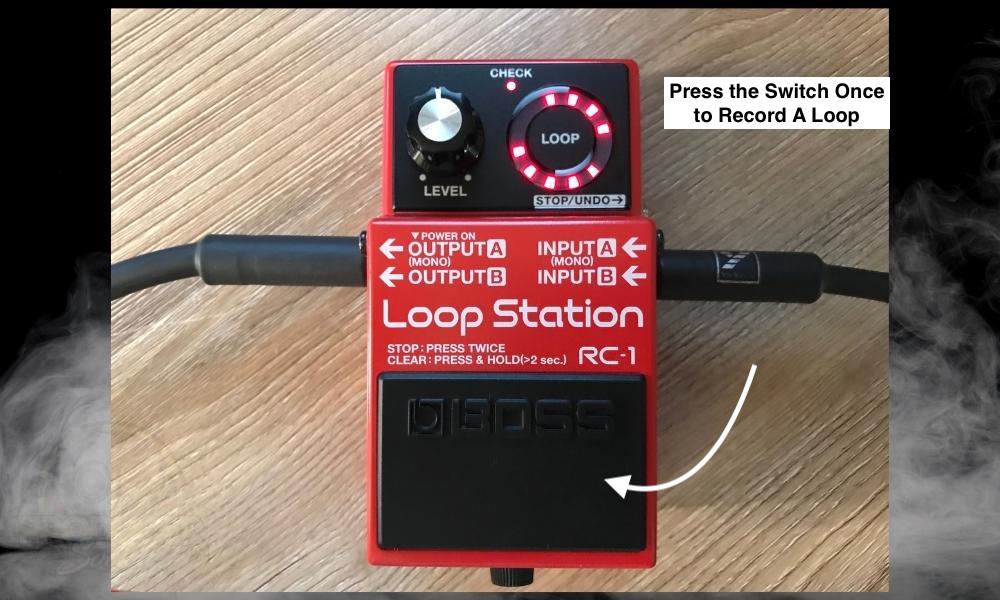 Recording a loop with the BOSS RC-1 looper is as simple as pressing on the footswitch. The LED display will flash a red color as shown above.
And it'll also correspond to the length of the recording (if you have it in the default recording mode, which we'll discuss later).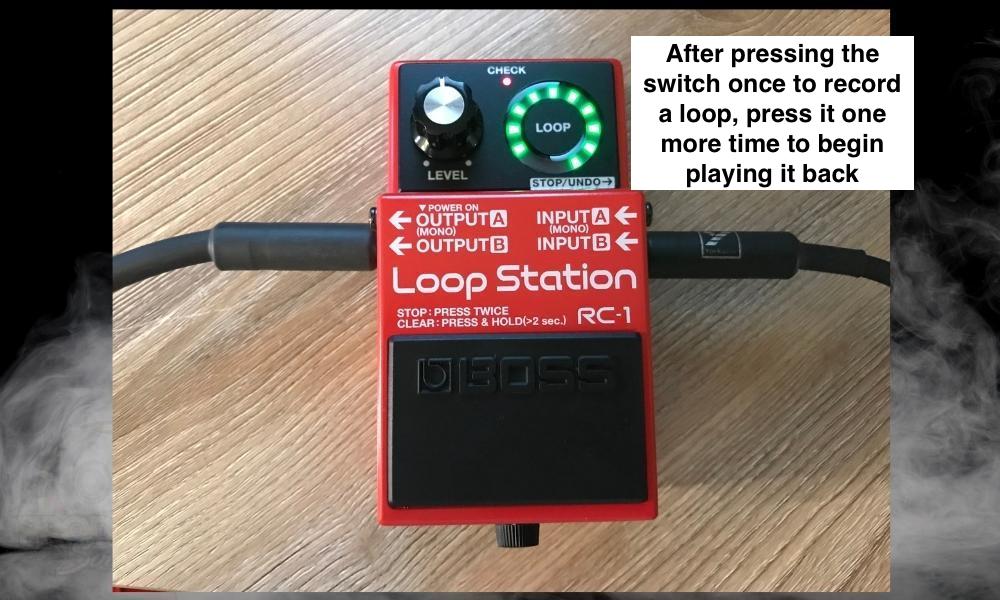 To get the pedal to playback the recording that you've just made, all you have to do is press the pedal once more after having recorded your loop.
Overdubbing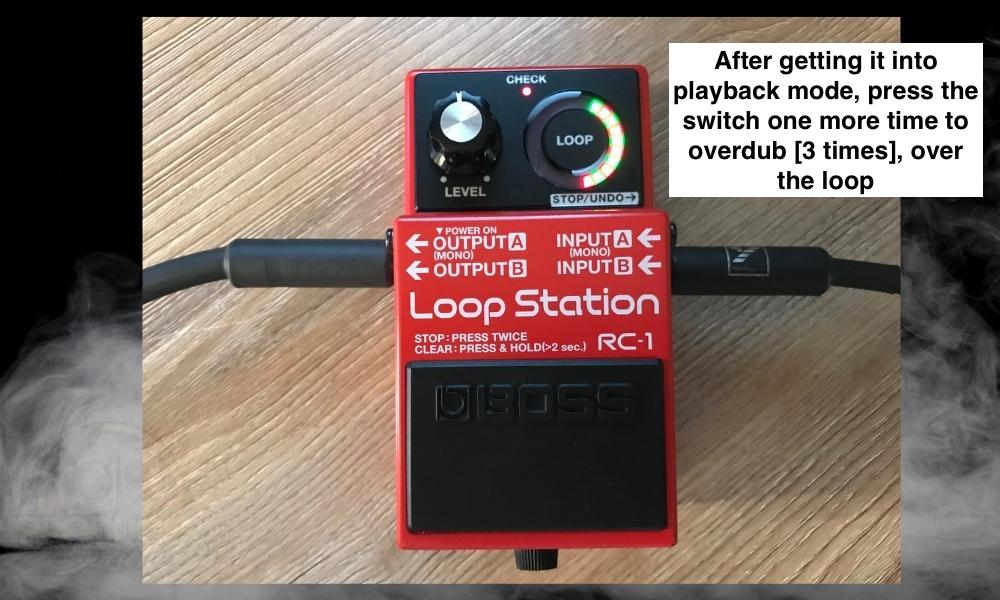 The overdubbing feature is also easy to use too, and it's easily identifiable. It mixes the green with the red color to let you know that you're recording a new loop while also playing back the first recording.
Undo Overdubbing
In the case that you change your mind and you don't like your overdub, you just have to press down on the footswitch and hold it while still in overdubbing mode.
Redo Overdubbing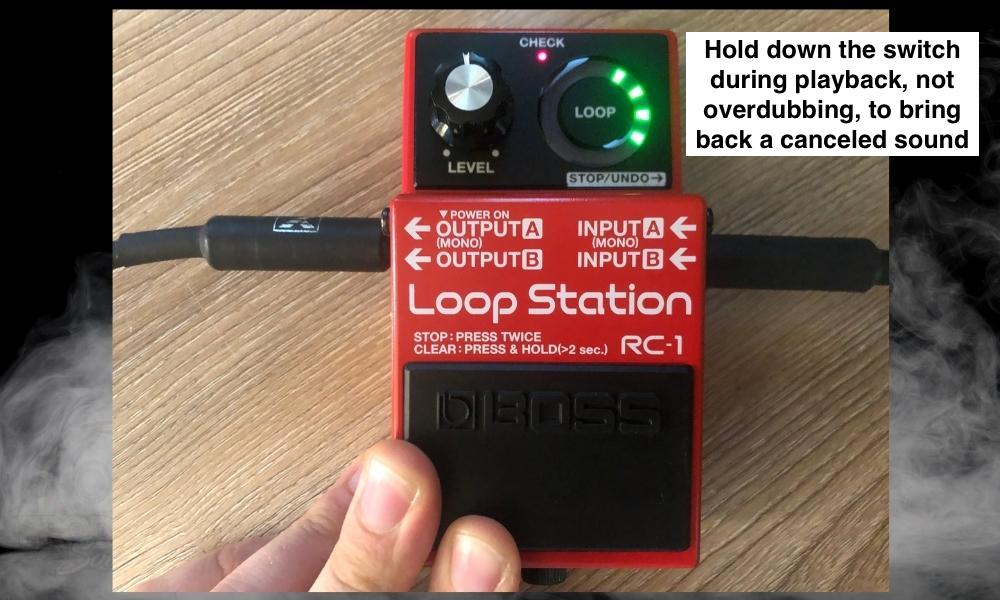 And if you change your mind and actually want it back, you can redo the overdub as shown above.
Pause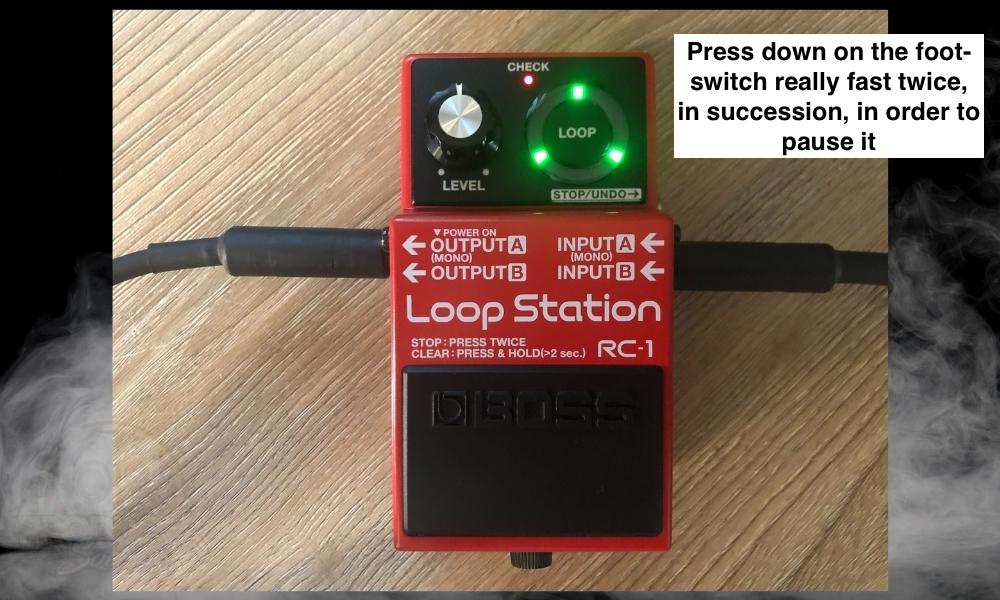 In some cases, you may just want to stop or pause your loop during playback or while recording. You can do that easily by pressing on the pedal fast two times.
Delete
Deleting a loop is just as easy as well, and you do this just by pressing and holding down on the footswitch until you get the flashing red lights that go all the way around the loop LED display.
Recording, Display, and Stop Mode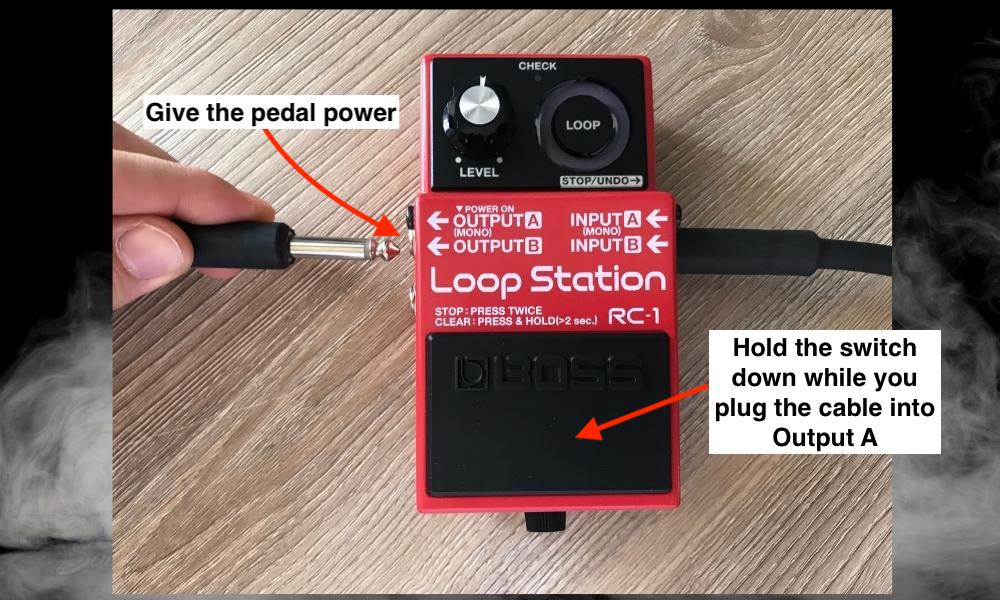 Additionally, you can re-configure the various modes of the RC-1, including Recording, Stop, and Display modes. The YouTube video I shared earlier, as well as my in-depth tutorial, will show you how to switch between these modes, and also what they do.
2) The RC-1 Is Easy to Use And Uncomplicated
Because the BOSS RC-1 only has the features above, it's very simple to use. You won't get bogged down by other more complicated features like what some of the more feature-rich models have.
3) The RC-1's Battery Life Is Solid For A Looper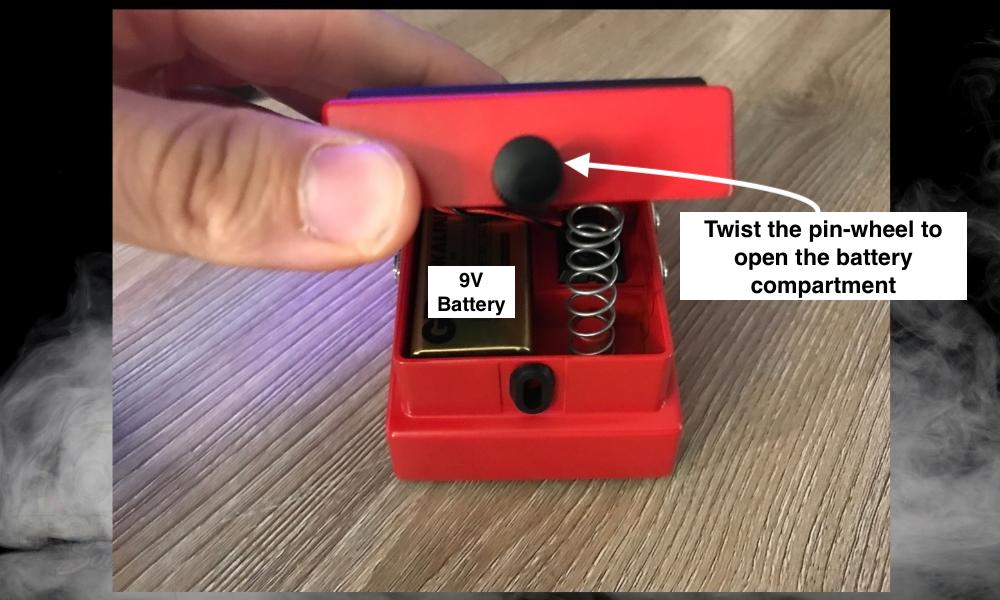 Additionally, you can get 4 hours exactly out of the BOSS RC-1 with a standard 9V alkaline battery. I demonstrated this in my experiment. If you read my article on how long batteries last in guitar pedals, you'll know that batteries rarely last long in pedals.
However, the RC-1's 4 hours of juice should give you enough power to get through at least one performance, whether you're a busker or a touring musician. It's still better to use a power supply though like the MXR Isobrick (my guide).
4) The RC-1's Price Relative To Other Pedals
Rather than list all of the pedals and their price, you can check everything out on Amazon, zZounds, and Thomann, for yourself. I've listed them in order in terms of their features and what they can do, with the RC-1 as the introduction to the world of loopers.
It's worth mentioning that BOSS has discontinued a few of its models including the RC-2 and RC-3. That said, there are still even more Loop Station models from BOSS that are worth checking out if you're really interested in what they have to offer.
My personal favorite is the BOSS RC-5 because, in my view, it has the largest number of features for the price while keeping the standard stomp-box size.
5) The RC-1 Is An Introduction To BOSS Loop Stations
As I just mentioned, I believe that no pedal company has as many looper pedals as BOSS, although, I could be wrong. They've covered all parts of the market, and they have a pedal to meet you wherever you are on your looping journey.
It doesn't matter if you've never used one, you have some experience, or you're a veteran looper, BOSS undoubtedly has you covered.
6) The RC-1 Is Reliable and Durable
And perhaps one of the better aspects of using the BOSS RC-1, or really any of their products for that matter, they're built like a tank and they're meant to last.
It's true that a lot of pedals are similarly well-built, but I feel like BOSS is a guarantee of quality and durability.
I first heard BOSS described this way in Euge Valovirta's YouTube video here, and I couldn't agree more with his sentiments. You can't go wrong with a BOSS pedal.
7) The RC-1 Has A Simple But Effective Display
The nice thing about the BOSS Loop Stations, and this appears to be the case for all of them, is that their displays show you what's happening with your loop. With the BOSS RC-1, for example, you know whether you're recording, playing it back, or overdubbing.
Everything is clear and easy to understand. Now only that, but the display will give you an idea of how long your loop is and when you need to press on it again so that your timing is perfect.
Additionally, you can change the display mode to be even simpler if you wanted as I mentioned earlier. Check out the YouTube video at the end of the article or the first link in the next section to learn how to do this.
Other Articles You May Be Interested In
How to Use The BOSS RC-1 Loop Station
And lastly, the RC-1 is easy to learn how to use because I created the best tutorial for it on my YouTube channel which is linked above. In that video, I show you how to do everything with the pedal, with the exception of hooking up an external foot switch.
Important Things to Note About Looper Pedals
1) There Are Many Looper Pedal Models
There are a ton of looper pedals out there for you to try, including from other manufacturers, but it's my view that you can't go wrong with a BOSS RC-1.
It's guaranteed to do what you need it to do, and if you need some more features, there are always other models.