I stand by the statement that looper pedals are one of the greatest things a guitarist can own. One of the main reasons why I like them so much is they serve as an unreal practicing tool. You can work on all kinds of musical concepts with them.
Not to mention they're a great pedal for live performances because they can stand in as backing tracks. Many of them also have drum loops built right into them as well. But I know you're probably wondering if they can be used for all amps. You're in luck.
Generally speaking, looper pedals can be used for any guitar or bass amplifier. In fact, most looper pedals can be used for nearly all amplifiers, digital pianos, and other instruments that use a 1/4" instrument cable. A few examples are miniature desktop amps, full stacks, and practice amps.
I own two looper pedals at the moment, a BOSS RC-5 and an MXR Clone Looper, and both of these devices can be used for all kinds of purposes. In the section down below, I'm going to show you how to set up a looper pedal with your amp, and we'll also talk about some other places for the standard looper.
How To Connect A Looper Pedal To Any Amplifier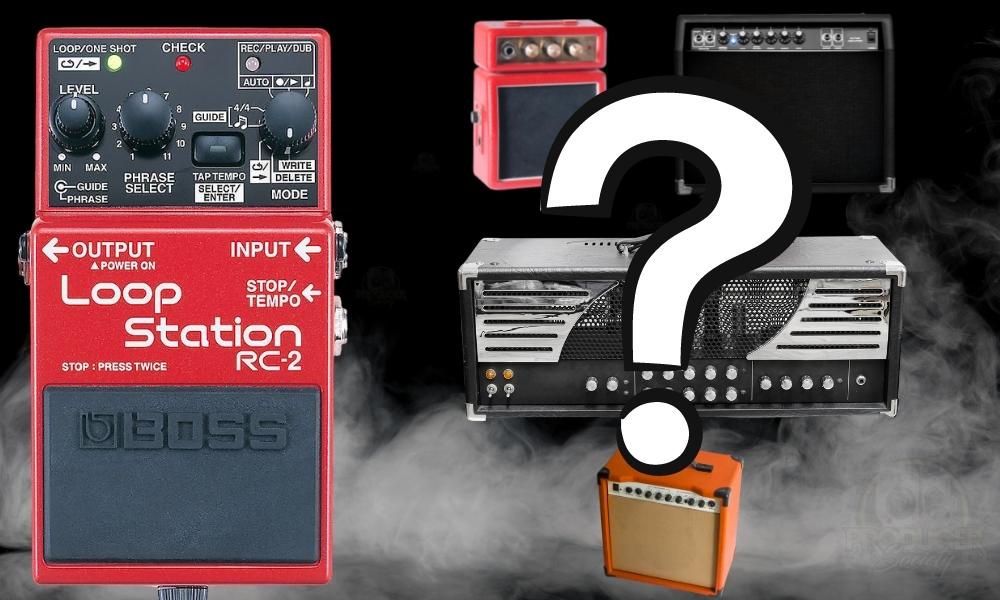 Looper pedals are very simple to set up with your amplifier. You just need a couple of things with you to get everything to work. You can also loop without a pedal too (my guide).
What You Need To Set Up Your Looper Pedal To Your Amplifier
1) Looper Pedal – The BOSS RC-5 Loop Station
The BOSS RC-5 is the best looper pedal you can get for the money, in my opinion, because it has pretty much everything you would need, including a reverse function, drum loops, and saveable and deletable loops.
You also have the ability to import new sounds from the BOSS Tone Studio which I showed you how to do in my guide on how to use the BOSS RC-5. The next thing you need is a guitar cable, of course.
2) Two 1/4" Instrument Cables – Ernie Ball Braided Right Angle
The right-angled guitar jack is my favorite one to use because I sit down to play the guitar a lot and almost never stand up. I need a jack that doesn't poke into the chair or on the couch where I'm sitting.
I would recommend getting one straight jack and then one right-angled jack. The straight cable goes into the pedal from the amp and the right-angled one goes into the guitar.
3) A Power Supply or Battery – 9V Alkaline Battery or MXR Isobrick
If you just need a temporary solution, the 9V battery on the left-hand side will do great. I would recommend getting the MXR Isobrick or a similar power supply though because you'll probably want an unlimited supply of power for multiple pedals.
With all that out of the way, let's dive into how you set everything up. It takes just a few seconds. For this tutorial, I've shown you how to set up the Looper Pedal with a miniature amplifier.
I chose the small amp just to demonstrate that the pedal can work with any amplifier that outputs sound via a speaker connected to an instrument with a 1/4" jack.
I usually use the RC-5 with my Hughes and Kettner/Mesa combo instead. But I find the miniature amplifier is fun to use sometimes if I don't want to hook up my usual set-up. Without further ado, here's how to do it.
1) Turn Your Amplifier On & Connect A 1/4" Instrument Cable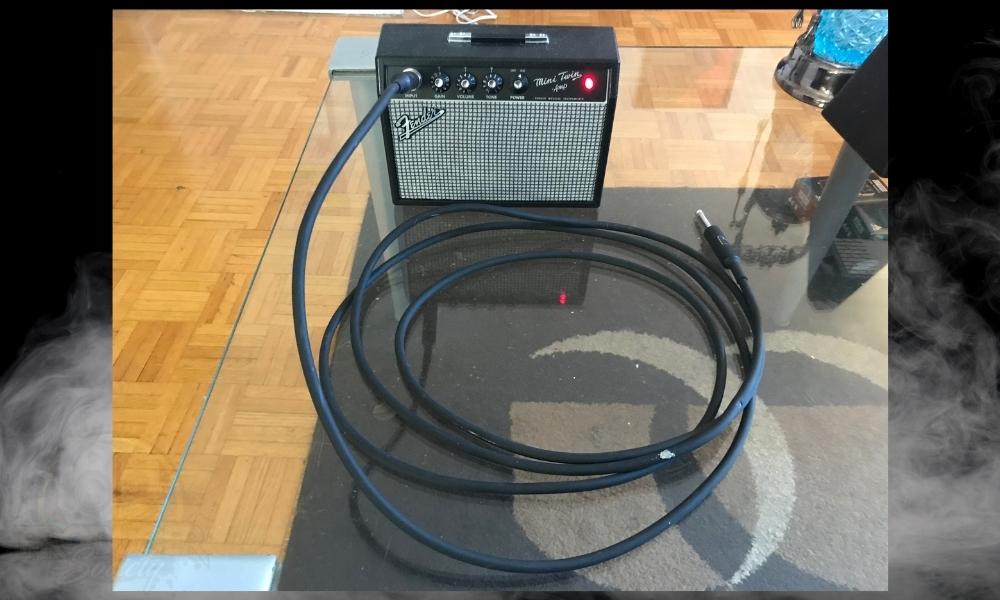 For this part, I would recommend using a straight instrument cable like the one above, but it's up to you.
2) Plug It Into Output A (Mono) On the Pedal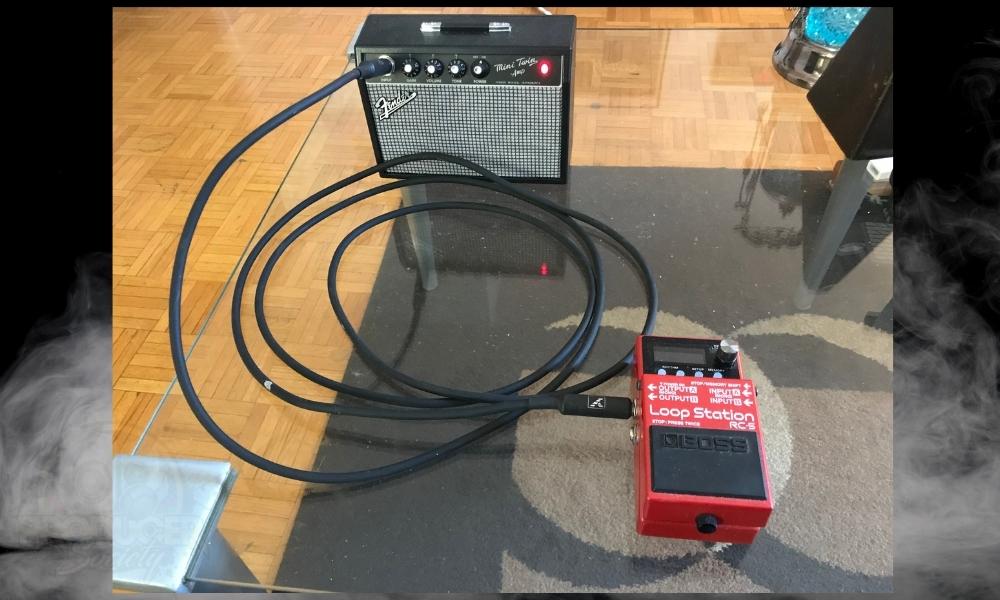 Plug the instrument cable into Output A on the pedal. Ensure you choose Output A and not the other one, otherwise, it won't work properly.
3) Connect Your Power Supply (Or Battery)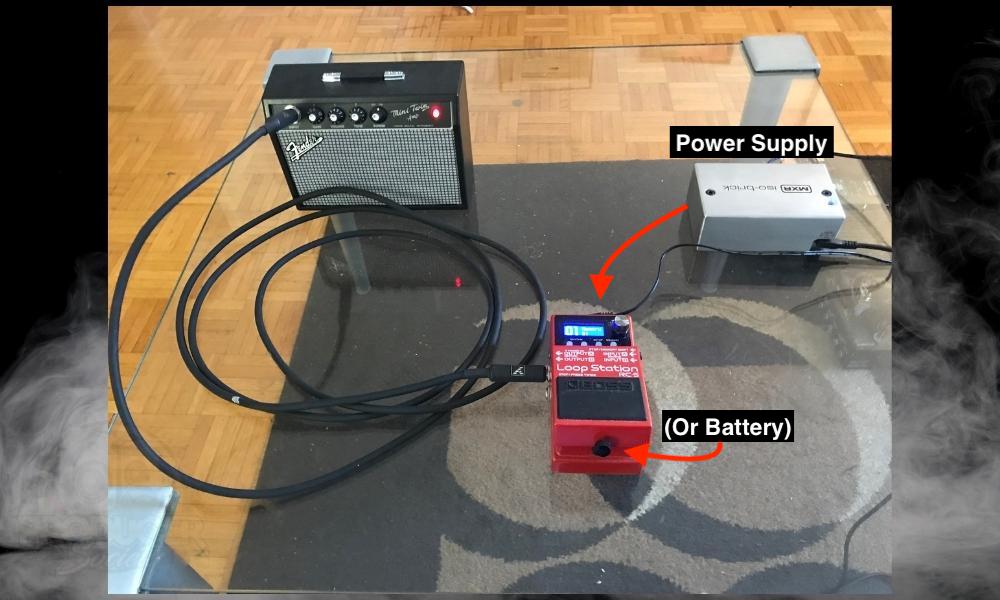 If you wind up using the MXR Isobrick, you'll want to use the 9V 300mAh port or one of a similar rating. As long it's 9V and above 170mAh. As I said in my Isobrick guide, you don't really risk frying the pedal unless you use above 9V.
4) Run A Cable From the Pedal's Input To Your Guitar
Connect another cable from the pedal's input to your guitar. This will actually turn the pedal on and it'll be ready to go. Stomp on the pedal to get it started and then play the guitar. It'll record everything as expected.
And that's the long and short of how you get a looper pedal to work with any amplifier, and I mean any amplifier. There's no reason this can't work on your practice amp, your miniature amp, your half-stack, or whatever.
What's interesting is there are a few other applications for Looper Pedals that I feel are underrated. One is with the digital piano.
Looper Pedals & Where And When You Can Use Them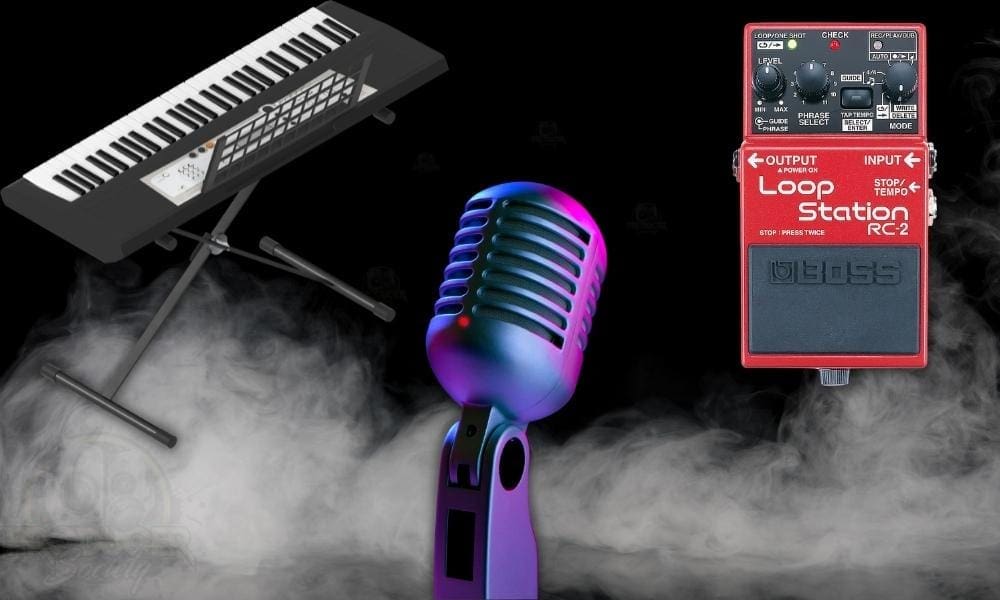 1) Digital Pianos and Other Instruments
If you connect your digital piano to an amplifier, you can actually connect the looper pedal to the piano in the same way that you would with the guitar. There's no reason why it wouldn't work because the same technology is at play, more or less.
From what I understand, the piano just has to be connected to a speaker system of some kind and then the pedal and piano are connected via a 1/4″ instrument jack just like the guitar.
2) Vocals
Looper pedals can also be used for vocals, however, how this is a bit more complicated because microphones use XLR inputs which look like the three-prong input.
That said, if your vocals are coming out of a speaker, you can use a loop station to loop them too. Ultimately, guitar pedals aren't meant for microphones, they're meant for guitars and other instruments that use 1/4" instrument cables.
If you wanted to have a loop station that does have an XLR input, you could have a look at this site here. It's not uncommon for people to use the TC-Helicon Ditto Mic Looper Pedal for vocals. There are a few others on that site as well.
Do I Need An Effects Loop For A Looper Pedal?
As I discussed in my guide all about this, looper pedals don't have to go in the effects loop on your amplifier, however, if you want control over whether you have effects on your loop playback or not, the effects loop is the best place to put it.
This is just my personal opinion though, so keep that in mind. I like having the ability to take delay and other effects on and off the loop, as well as on and off the guitar signal that's playing over the loop. I think this is the best way to use it.
Other Articles You May Be Interested In
Important Things to Note About Amplifiers and Looper Pedals
1) There Are Other Great Loopers On the Market
When most people think of a looper pedal, they have BOSS in mind because they have a ton of them, including the RC-1, RC-2, RC-3, RC-5, RC-505, and the list goes on and on. While BOSS may not have the best looper pedal, per se, they are a guarantee of quality.
Some of the great ones to check out are the TC-Helicon Ditto Mic Looper Pedal. It's one of the most discussed looper pedals next to the BOSS models. you can also have a look at the TC Electronics X2 Ditto.
Gear Mentioned
1) BOSS RC-5 Loop Station (on Amazon/Thomann/zZounds)
2) Ernie Ball Right-Angled Guitar Jack (on Amazon)
3) Duracell 9V Alkaline Battery (on Amazon)