Readers of Traveling Guitarist and Producer Society know that I'm a huge fan of looper pedals. There are many reasons I like them. Probably the biggest reason is for practicing but you can also use them for creative purposes as well.
However, like every other piece of technology out there, they are prone to issues. Thus far, my BOSS RC-5 and MXR Clone Looper have given me zero trouble, but I understand the struggle when you mess with many too configurations and need to do a reset. So how does one do that with the Loop Station?
To reset the Boss Loop Station
1) Unplug the 1/4″ jack
2) Hold down on the pedal
3) Plug the cable back in while holding down the foot-switch
4) Double-click or click once more to switch between Recording [RED], Stop [GREEN], and Display Mode [RED & GREEN]
This is the long and short of how you reset the mode of your Boss pedal, however, this is just how it's done with the BOSS RC-1 pedal. How you switch between modes on the pedal depends on which model you have, and as you may or may not know, there are a lot of BOSS Loop Station models. Let's dive into some of these other models down below.
How to Reset the BOSS RC-1 Loop Station
As I was saying a moment ago, how you switch between modes on the BOSS Loop Station pedals depends on the pedal that you have. Connection is usually the same though – my guide.
How you do things on the RC-500 may be different than what you do on the BOSS RC-5 or the BOSS RC-1. Let's walk through the RC-1 in a little more detail.
1) Unplug the 1/4″ Instrument Cable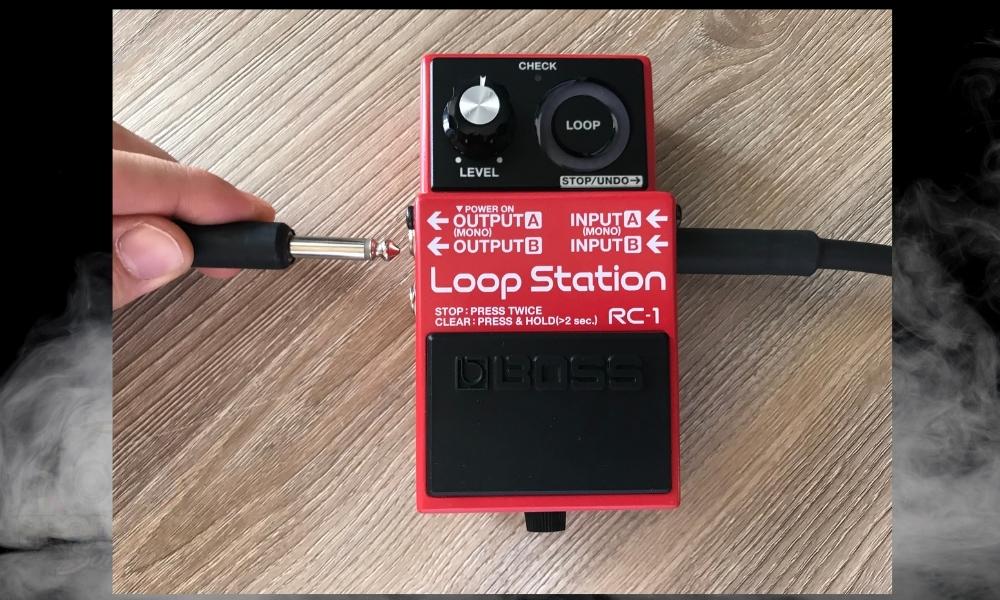 This should be pretty self-explanatory. All you have to do is unplug your guitar cable from the cable that way you can begin the process.
2) Hold Down The Pedal Foot-Switch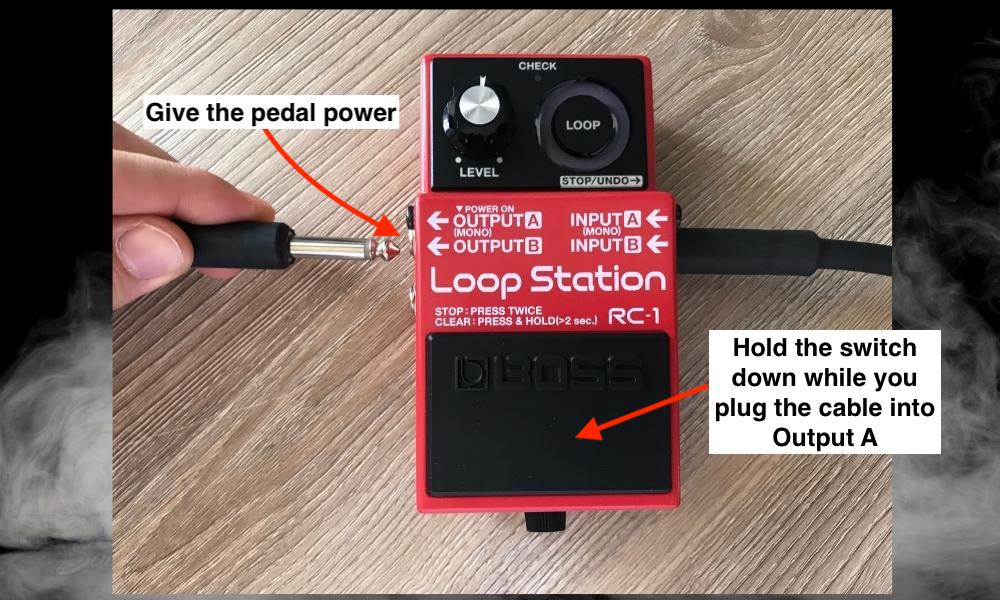 After you've unplugged the cable, hold down on the pedal as if you were trying to activate it. Prepare to hold it down for a little while so you can switch between modes.
3) While Holding The Foot-Switch, Plug The Cable Back In
So you're continuing to hold down the pedal. Plug the cable back into the unit and you'll notice that the pedal is lighting up in ways that you've probably never seen before.
4) Switch Between Recording, Stop, and Display Mode By Clicking or Double-Clicking
It'll light up all red on one part of the LED display, or the other part of the same display. Which part it lights up lets you know which mode you're in, either Recording Mode, Stop, or Display mode.
Ultimately, you've got two different settings for recording stop and display mode. There is a green, and red mode, and a mixture of green and red.
Recording Mode [RED]
So, if you're in the Red mode, that means you're in Recording Mode, and there is a difference between when the top half of the LED lights are lit and when the bottom half is lit up.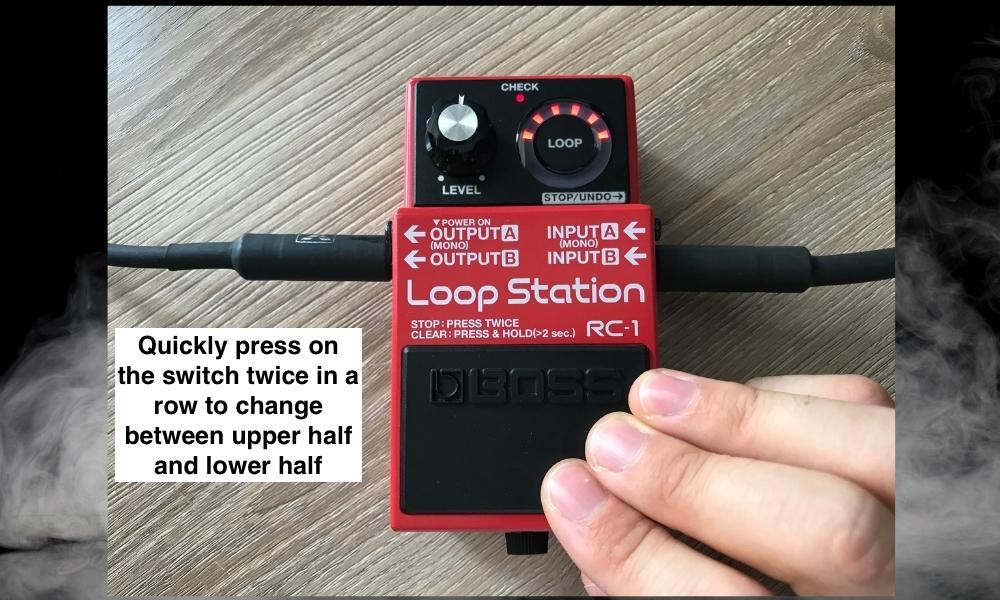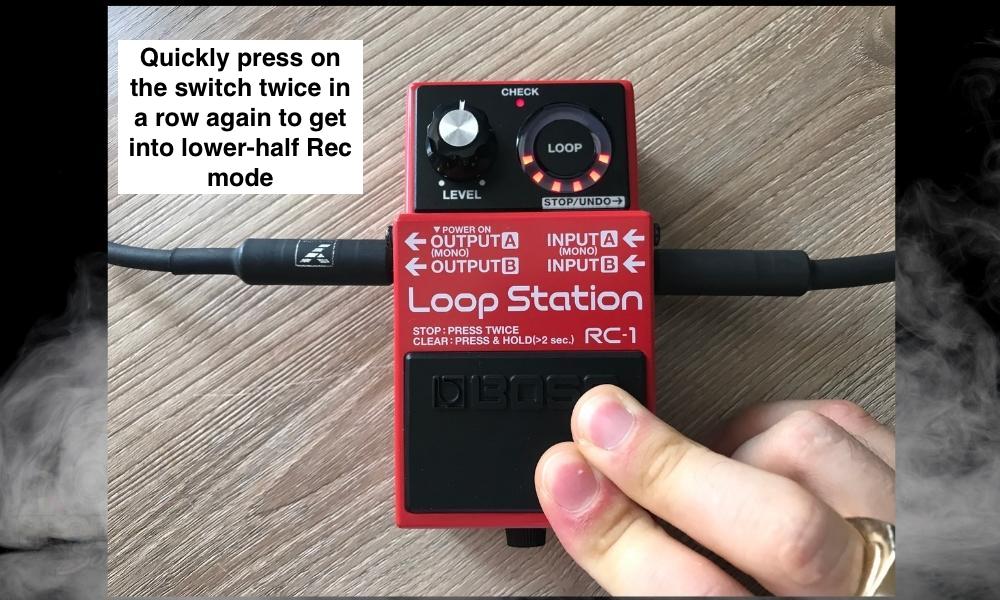 Stop Mode [GREEN]
Stop mode is a bit different because what it does is that it changes how the pedal pauses or stops recording loops including playback.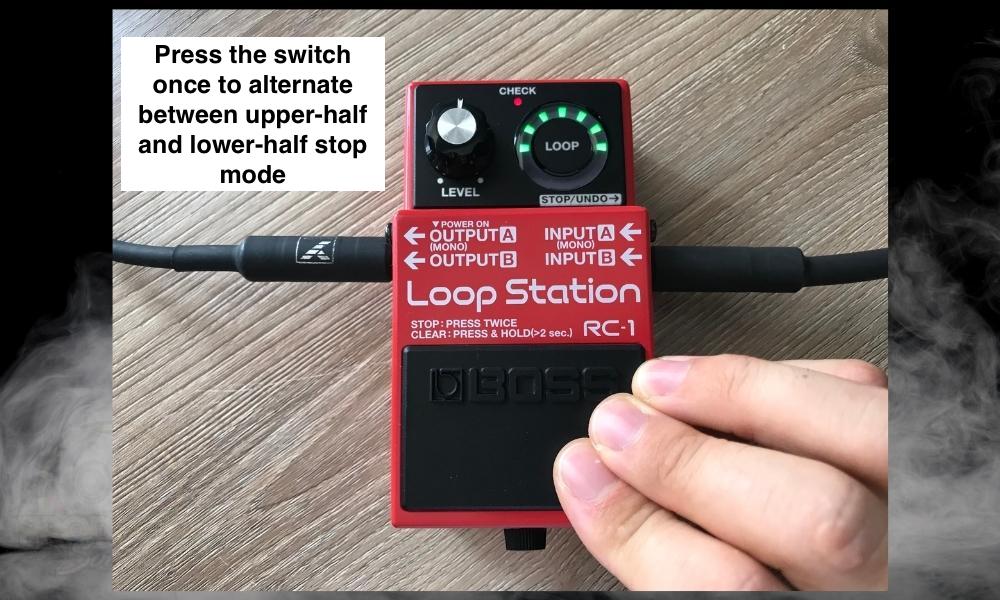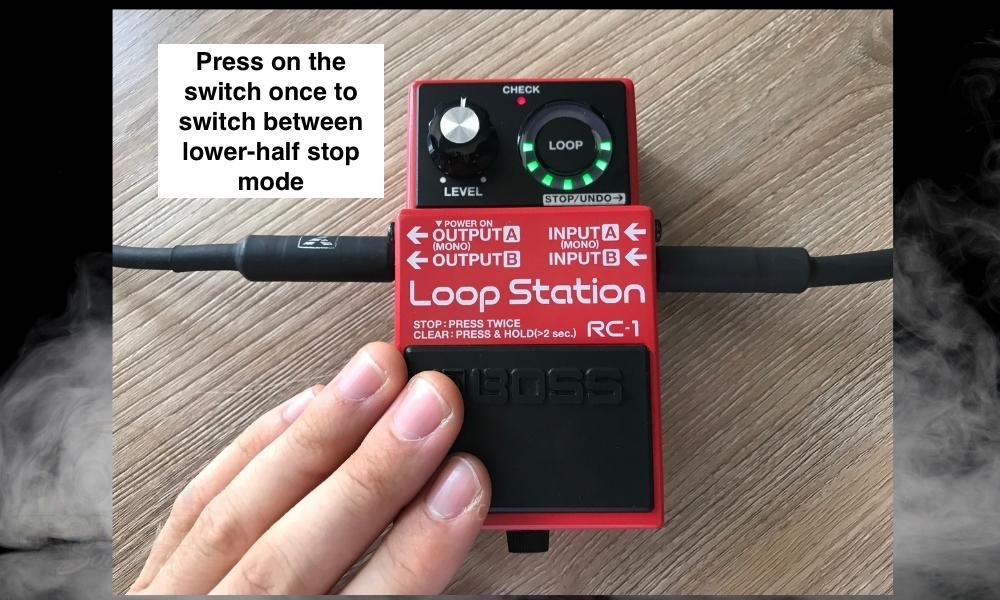 Display Mode [GREEN and RED]
Display mode allows you to adjust whether the LED lights respond to the length of the loop you've recorded.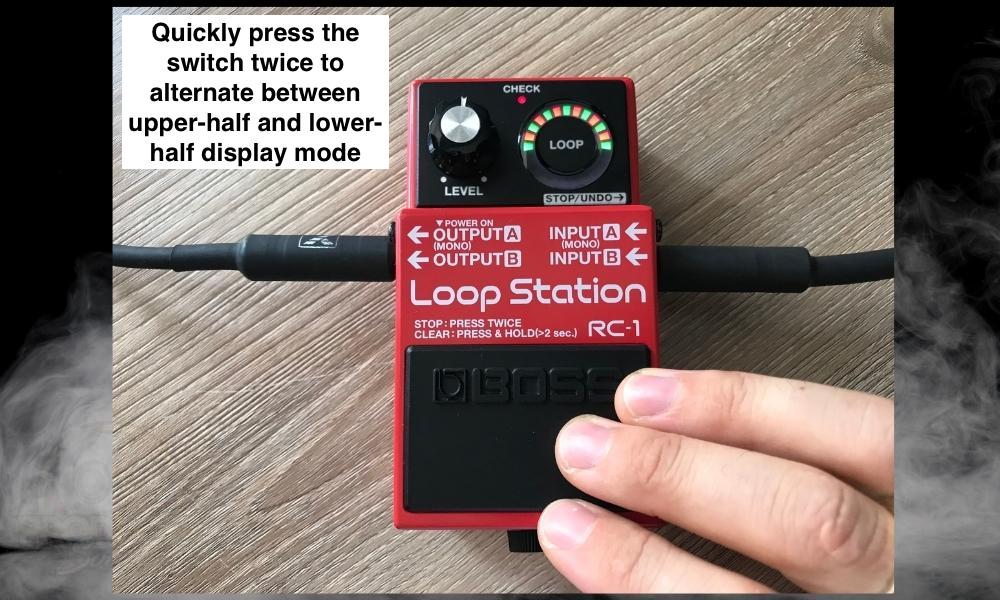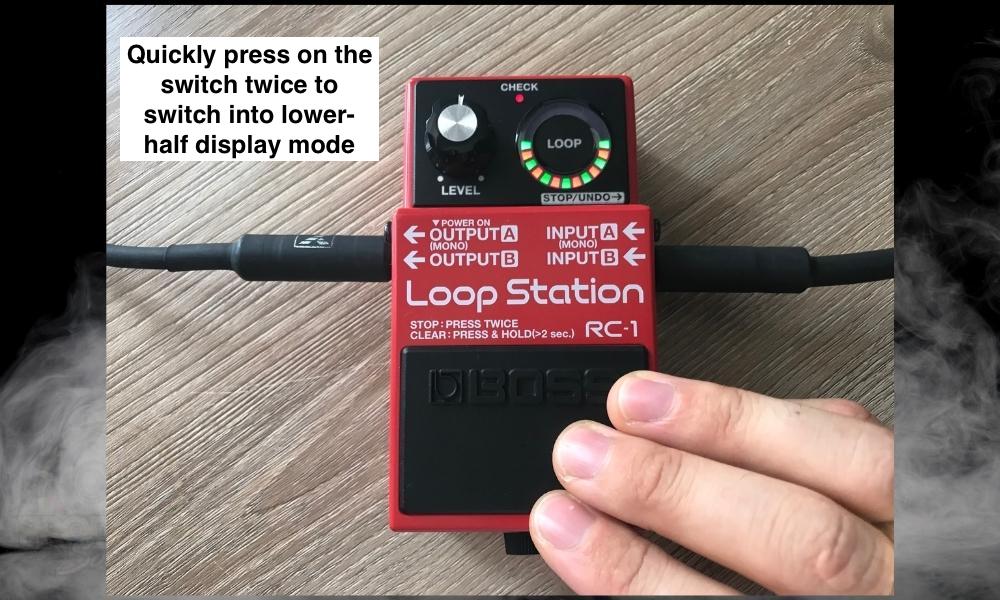 And ultimately, this is the long and short of how you switch between modes or reset your BOSS Loop Station RC-1. I recommend going to this link if you want to check out the BOSS RC-1 instruction manual directly from the manufacturer.
If you found yourself wondering why your pedal hasn't functioned as it should have usually, it's probably because you switched modes accidentally. Now you know how to get out of that.
How to Reset the BOSS Loop Station RC-2 & RC-3
According to the people over at The Gear Page, one of which actually reached out to the Roland customer support team, it's not actually possible to restore the RC-2 and RC-3 to factory settings.
In simple terms, this means that if you've deleted loops, changed up the settings in some way, or adjusted things to a point where you feel like you'd like the default pedal back, you're out of luck.
Personally, I found this hard to believe (and I wound up being correct in relation to the RC-3) so I went and reached out to the BOSS team myself to see if this was the case.
They wound up partially confirming what the people on The Gear Page said. So you can't restore the RC-2 to factory settings but you can with the BOSS RC-3.
You can reset it to the internal memory, and you do this just as it's explained on their support page. Here's how to perform a factory reset with the BOSS RC-3:
1) Turn the Device Off
2) Press and Hold [WRITE] and [RHYTHM ON/OFF]
3) While Holding the Buttons, Plug In A 1/4″ Instrument Jack To Output A
4) Release The Buttons and Then Press [RHYTHM] Again
5) When "FN" Flashes, Press [WRITE] And Wait For It For To Flash Repeatedly
If you're using a slightly better version of the RC series, like the RC-5, you actually can restore things the way they used to be among other useful features.
If you've read my full guide on the RC-5, you know you can even hook it up to your computer. With that in mind, let's dive into how to reset the BOSS RC-5.
How To Reset The BOSS Loop Station RC-5
Unlike the RC-2, the RC-5 is capable of a factory reset, among many other great features, including the aforementioned ability to hook up to your computer and import/export loops and other files.
This means you can actually find your own drum loops on the internet, whether from Cymatics, YouTube, or TikTok, and then upload them to your RC-5 and use them in a live setting. It's some very cool stuff.
But what if you've deleted some default loops or some stock settings? How do you go about resetting the RC-5 to its factory settings?
1) Connect the Pedal to Power and Turn It On
The first thing you need to do is connect the pedal to power as you normally would. You do this by connecting your power source (battery or isolated power supply), and then by plugging in the 1/4″ instrument cable to the "Output B" port.
2) Press the Set-Up Button
This is self-explanatory. Just press on the Set-Up button to bring up the menu that you want to get into.
3) Turn The Memory/Loop Button 5 Times Until You Reach "F. Reset"
Turn the Memory knob approximately five times until you reach the setting that says, "F. Reset" which obviously refers to "Factory Reset."
4) Turn the Memory/Level Button To Select Either "Memory," "System," or "Mem + Sys"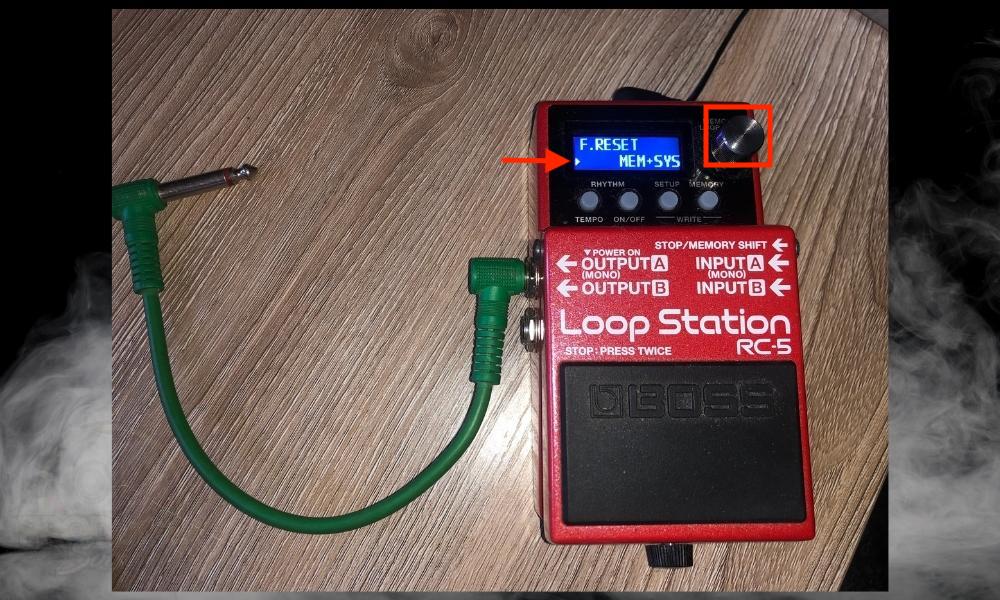 And once you've reached the Factory Reset menu, you'll be given a number of options for implementing a factory reset.
You can reset the memory banks that you've stored on the device, or you can reset the system back to its original configuration. If you wanted to do both at the same time, you would choose "Mem + Sys."
How To Reset The BOSS Loop Station RC-500
In case you didn't know, the BOSS RC-5 is one of the most advanced Loop Stations that your money can buy. It's also one of the newer models. It tends to cost a bit more money than the other ones as a result, but it is more advanced, for sure.
Anyway, let's dive into how to factory reset the RC-500 to its default settings so you can get back to where you were before.
According to the manual, the factory settings are great to revert to after having updated the device's firmware, or even if it was used secondhand by someone else who messed with the settings a lot. So let's dive into how to do it then.
1) Press the Menu Button & Wait for Setup > General to Show
2) Select F. Reset from the Menu And Press MEMORY/Value Knob
3) Choose Which Settings to Revert Back to Factory Settings
4) Select MEMORY, SYSTEM, or MEM + Sys for Both
Other Articles You May Be Interested In
Important Things To Note About Resetting The Boss Loop Station
1) There Are Other Loop Station Models
I've only included the most popular versions of the BOSS Loop Station models. For example, I've neglected to include the old BOSS RC-30, the BOSS RC-10R, and the many other versions that they have.
Truth be told, many of these models will have similar ways of doing the same things anyway, so you should be able to figure it out if you've read this article.
Gear Mentioned
1) BOSS RC-1 Loop Station (on Amazon/zZounds/Thomann)
2) BOSS RC-5 Loop Station (on Amazon/Thomann/zZounds)