Now that you've got your hands on one of the better looper pedals out there for the money, the BOSS RC-5 Loop Station, you probably want to make sure you get the best you can out of it. It's a great pedal.
While I love Roland's BOSS and everything they make, their instruction manual, like other companies, isn't the best. For that reason, I've taken it upon myself to show you how to do some of these things, including connecting it to your computer.
To connect your BOSS RC-5 Loop Station to your computer
Connect the pedal to your PC using a USB Type-A to Type-B cable
Ensure the pedal has power
Connect an instrument cable to Output A
Press the Memory button on the pedal, then scroll to SET-UP
Select STORAGE then press the Memory button again
This is how you get the pedal to work with your computer. It's super important that you follow these steps closely because if you don't, the computer won't recognize the pedal or what you're trying to do. Take it one step further and ensure you've downloaded the BOSS Tone Studio so you can get more sounds for it. Let's dive into the steps down below.
Need Guitar Lessons or Pressing Questions Answered?
Email: [email protected]
Price: $50USD Per Call/Lesson
Connecting the BOSS RC-5 To Your Computer [Step-By-Step]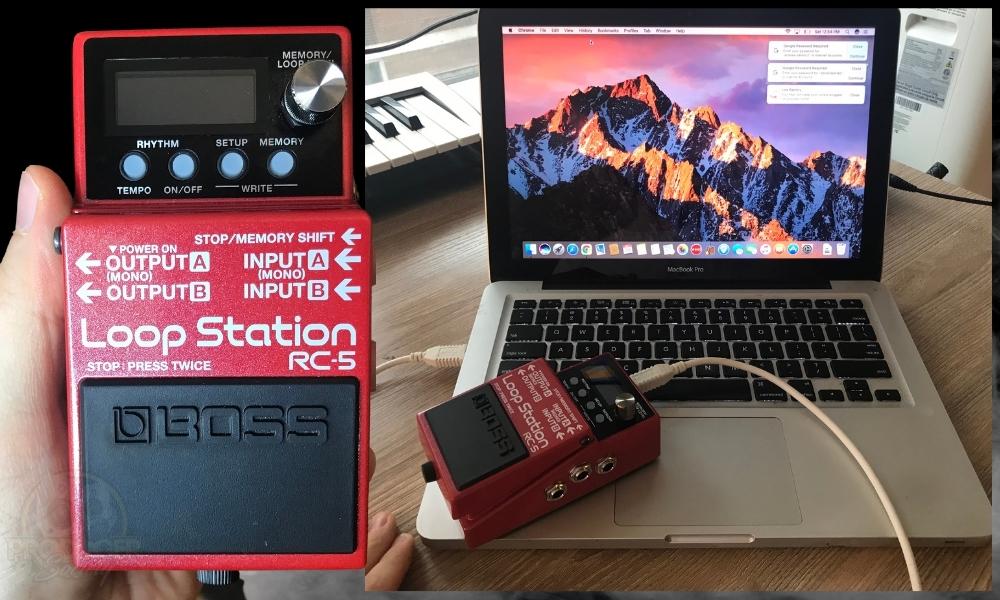 Thankfully, connecting the BOSS RC-5 to your computer is fairly simple, but there is a learning curve to it, albeit a small one.
I showed how to do it already in my guide on the RC-5, but I think it's worth exploring on its own. There are a couple of things worth noting before we dive in.
The pedal needs to have a power supply in order for it to be turned on. This could be either a battery or a traditional power supply like the MXR Isobrick. The pedal is not buss-powered.

You also need to connect a guitar cable to the Output in order for it to turn on. Make sure you use Output A. I recommend using a regular pedal patch cable because they're small and useful for this kind of thing.

You also need to properly navigate to Set-Up > Storage, in order for the pedal and the computer to recognize each other. If you don't navigate to this Storage setting, your computer won't pick up on it.

Downloading the BOSS Tone Studio is not totally necessary. But it's useful if you want to access more sounds.
1) Connect the Pedal to Your PC With USB-A to USB-B Cable
If you're using a newer MacBook Pro, like one produced after 2016-2017, you'll likely need a USB-C to USB adapter. If you don't already have one, you can get one like this on Amazon without an issue.
The next thing you need if you don't already have it is the Printer Cable, also known as the USB-A to USB-B type cable. These come standard with most MIDI keyboard purchases, for example.
2) Supply the Pedal With Power (Battery or Power Supply)
Personally, I always recommend using a power supply, especially with a pedal like the BOSS RC-5 because they're far too hard on batteries and rarely last longer than 2 hours. I demonstrated this in my article on how long batteries last in guitar pedals.
3) Attach a Guitar Cable to Output A on the Pedal
Just like you were getting ready to use the pedal on your board, you have to connect a cable to Output A in order for it to turn on. This is an important step that you can't miss.
4) Click the Memory button > Scroll to SET-UP
After you've connected the power supply to the pedal and attached a cable to Output A, click the Memory button and then scroll to Set-Up with the Knob.
5) Select STORAGE > Click the Memory Button
This will put the pedal into a mode whereby the computer can now recognize it and you can start transferring files or whatever it is that you're trying to do with it.
6) Navigate To the Pedal Folder On Your Desktop
The DATA folder is where you can find the files and loops that you've saved. But what about if you want to load new sounds and samples onto the BOSS Loop Station? Well, it's pretty easy to do if you're using the BOSS Tone Studio.
7) Download the BOSS Tone Studio For Additional Tracks and Content
You can download BOSS Tone Studio here and this is where you can find all of the good stuff you're looking for. You can choose from many different types of sounds and sample packs, if you want to call them that, including Blues, Pop, Country, Soul, Surf, and so on.
If you're into busking and jamming in public or even just practicing by yourself (my guide), this is a great resource that gives you a lot of options. Admittedly, I haven't gotten that into the various sounds that you can get your hands on.
But I intend on busking sometime over the year because I feel like it would be fun and a good way to make use of my extra time. Anyway, that's all for connecting the BOSS Loop Station RC-5 to your computer. It's dead easy.
Other Articles You Be Interested In
Important Things to Note About Connecting The Loop Station To Your PC
1) It May Be Different For Other Loop Station Models
From what I understand, not all BOSS Loop Station models have the ability to import and export loops, although, I could be wrong. I know that the BOSS RC-5 has the ability to not only export files for future use, but you can also load all kinds of sounds onto it.
This means you can not only save old loops that are taking up too much space, and replace them with newer ones if you need to. The BOSS Tune Studio also allows you to transfer all kinds of new sounds if you want them.
2) Boss Tone Studio Only Works On macOS
Unfortunately, the BOSS Tone Studio can only be downloaded and installed on macOS devices. You can get your hands on similar applications on iOS but they're not quite the same, and I don't think they can work with the BOSS RC-5.
Gear Mentioned
1) USB-C to USB Adapter (on Amazon)