To connect a guitar to a PreSonus AudioBox, attach the AudioBox to your computer or mobile device with a USB cable, then run an instrument cable from your guitar to Input 1 on the audio interface. Set the AudioBox as your input device, turn on monitoring, open a new track, and begin recording.
I've made countless articles on my other site, Producer Society, explaining how to set up a guitar and an audio interface with your computer or mobile device. It doesn't matter whether you're using a phone, tablet, or PC – it's practically the same process.
But there are some things that you should know about, including what gear to get and how to set everything up on the device. If we wanted to get into the specifics of popular DAWs, that would take even more time, although, I will show you the basics.
We won't be getting into those details for now, other than the basics of setting it up with your guitar, configuring the audio interface, and a few other valuable things to consider. Unfortunately, I left my AudioBox at my parents' place so we'll have to use some infographic-style images, but anyway, let's do it.
Need Guitar Lessons or Pressing Questions Answered?
Email: [email protected]
Price: $50USD Per Call/Lesson
How To Connect Your Guitar To An AudioBox USB96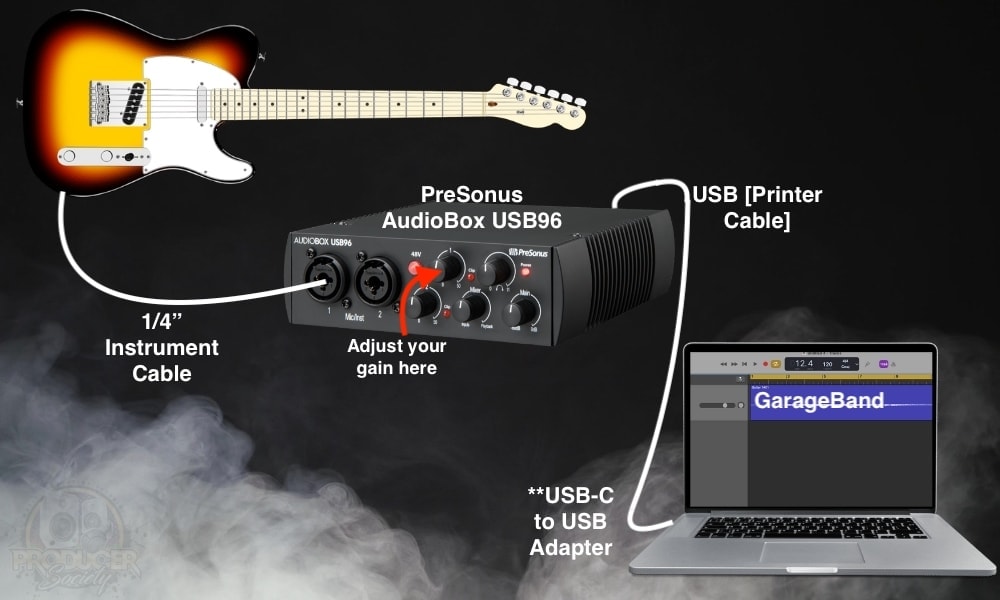 While it may appear intimidating at first, setting up an audio interface with a guitar is really straightforward stuff. After you do it even just a handful of times, you'll quickly get the knack for it and it won't seem difficult at all moving forward.
I'll make sure to show you how to configure your DAW with the AudioBox as well underneath the following subheadings, but first, we'll start with the basics.
1) Connect The AudioBox To Your Computer With The USB Cable
If you're using a newer computer, you'll more than likely have to use the USB to USB-C adapter which is easily found on Amazon and other retailers.
Because the AudioBox is buss-powered, it takes its power from the computer, and not from an external source.
If you wanted to connect the AudioBox to a mobile device, you would maybe have to use an external power bank connected to a multiport adapter.
This depends on the device that you're using though. I talked about this in my other article on the subject on Producer Society.
2) Turn On Your Computer and Open Your DAW
In this case, I'll be using GarageBand macOS because it's still the DAW I use to this day. It works great for making simple recordings and beats, although, you can certainly make more complicated music with it.
3) Configure Your DAW So The AudioBox USB96 Is The Input Device
You could also set this up in the Smart Controls, but I prefer doing it in the Preferences at the top left-hand side of the interface. Additionally, you could set your Output Device to something else if you wanted to.
I have my iLoud Micro Monitors hooked up to my computer, so I'll just choose Built-In Output, but if you wanted to listen to headphones connected to your audio interface, you would choose the audio interface once again.
4) Create A New Audio Track In Your DAW
You can do the same thing by right-clicking on the track headers and choosing a new audio track. After that, we want to select an Amp Sim and turn on the monitoring. At that point, we're almost ready.
5) Choose An Amp Simulator And Turn On the Monitoring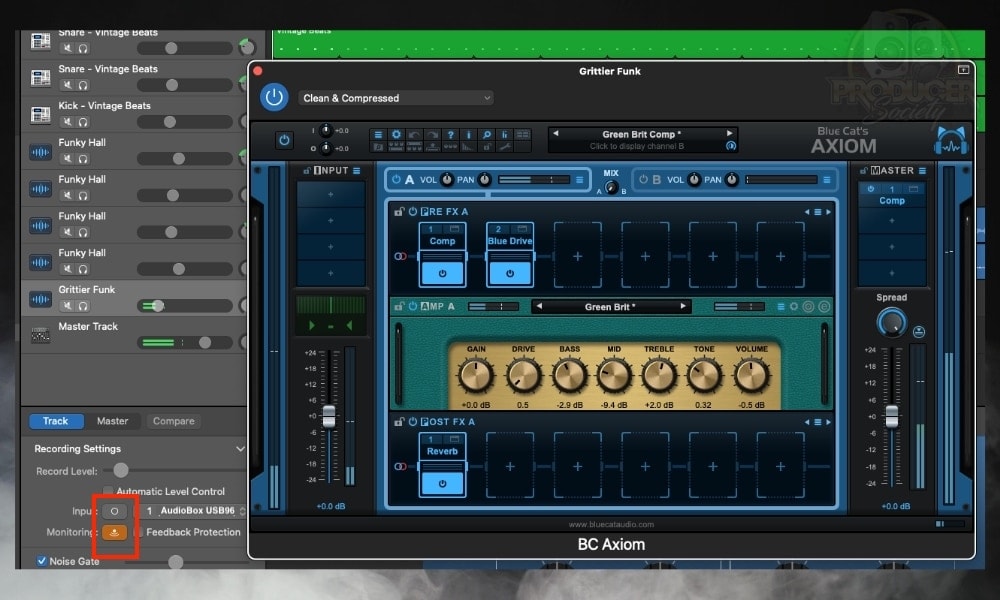 I've been using Blue Cat Audio's Axiom for over a year now and I still love it. It can do all kinds of great stuff. One of these days, I should do a full tutorial on how it works because I use it regularly for everything.
6) Connect A 1/4″ Cable From Your Guitar To The AudioBox Input
It really isn't terribly difficult to understand though. Just connect your guitar cable to the input.
7) Turn Up The Gain While Strumming Your Guitar
You don't want it to start clipping which you would be able to see on the red light beside the dial. Getting the gain correct takes a bit more effort. A good rule of thumb is to strum some chords fairly hard as if you were playing the intro to "Smells Like Teen Spirit."
And that's pretty much it for how you set up a guitar with the AudioBox USB96 from PreSonus. It's a nice little audio interface for the price and it even has a MIDI IN/OUT port on the back.
This will allow you to connect an electric piano. With all of that out of the way, let's talk a bit more about the gear you'll need to pull this off.
What Gear You Need To Connect An AudioBox To Your Guitar and PC/Device
Obviously, you know that you need the AudioBox itself (on Amazon/Thomann/zZounds), so we won't dive too much into that. But let's discuss a few of the other things you'll need, including a printer cable, although, you should get one that comes right in the box.
1) Printer Cable
Newer audio interfaces that get updates all of the time like the Scarlett 2i2 has moved away from this kind of cable and instead use USB-C. This is a welcome update in my opinion.
2) USB to USB-C Adapter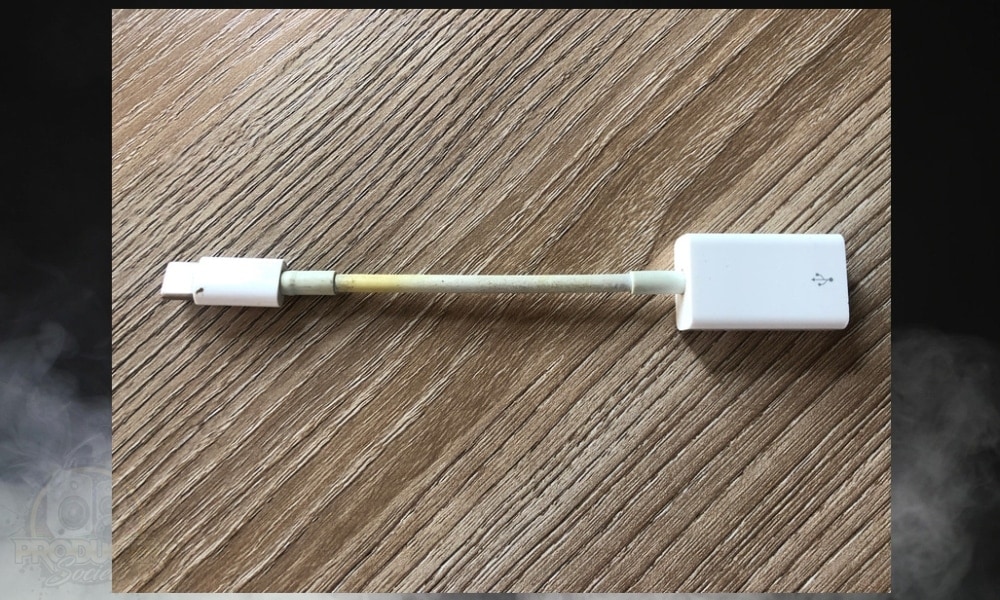 If you don't already have one of these, you can easily find it at the link I've shared with you above. I actually prefer using a multiport adapter with over a dozen ports on it, but those tend to be quite expensive.
A simple one like this should work fine for now. You can upgrade to a more multifaceted adapter sometime in the future as your needs evolve.
3) PC/Mobile Device
These devices are quite old at this point though, and Apple has significantly improved their products since then.
For example, I've got the iPad Pro 2021 1TB which has more RAM than my laptop as well as the M1 chip. In other words, it's actually more capable of music production than my laptop.
4) 1/4" Cable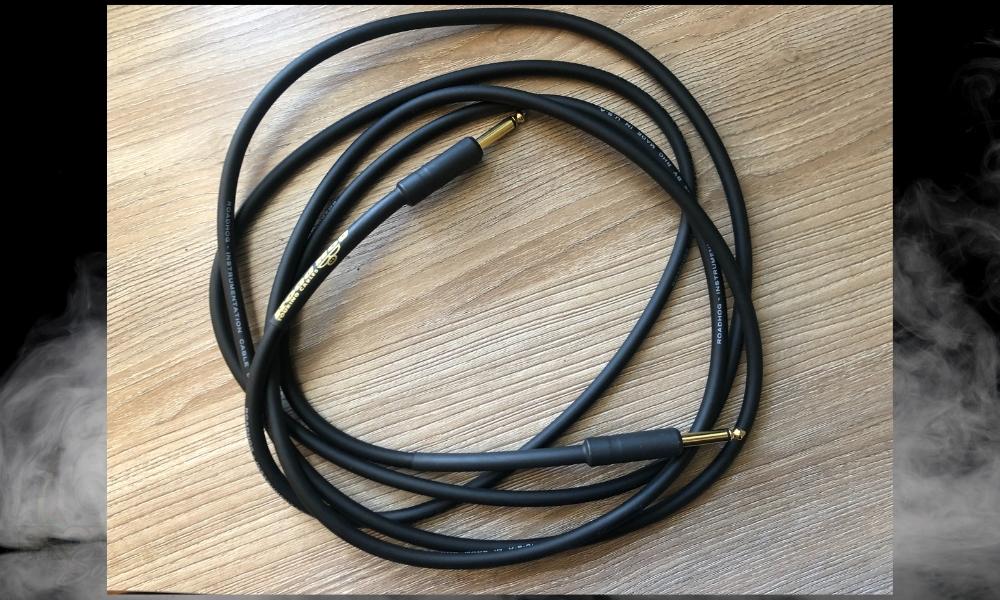 And finally, you want to use a cable. I like either one of these or the right-angled ones from Ernie Ball. I imagine you already have one though.
Other Articles You May Be Interested In
Important Things To Note About The AudioBox USB96
1) The AudioBox USB96 Doesn't Have An Inst/Mic Switch
Unlike the Scarlett 2i2 or any of the Scarlett series audio interfaces, the AudioBox USB96 doesn't have the ability to switch between an instrument and a line-level signal.
If you're plugging in a guitar, you'll just have to turn up the gain to match the line level or at least get close to it.
Gear Mentioned
1) PreSonus AudioBox USB96 (on Amazon/Thomann/zZounds) 
2) USB Multiport/Camera Adapter (on Amazon) 
3) USB Printer Cable (on Amazon)
4) USB-C adapter (on Amazon)
5) PigHog 1/4″ Instrument Cables (on Amazon)
6) Blue Cat Audio's Axiom (on Plugin Boutique)