When it comes to the debate between pitch-shifters, it seems as though the internet has decided between two pedals – the Whammy Pedal V and the Electro Harmonix Pitchfork. Both of them have their own advantages and perks that are worth discussing.
They also have their downsides as well. As a longtime owner of a DigiTech Whammy IV, I have to side with the Whammy, just so we're clear on my bias, but it's a tough contender once you start looking at a side-by-side comparison between the two devices.
Generally speaking, what separates the EHX Pitchfork and the DigiTech Whammy V is the lack of dual-mode and a blend/mix knob on the Whammy V, but the Pitchfork's exclusion of an in-built expression pedal, true bypass functionality, and its alleged inability to track chords as well as the Whammy.
When you really take a look at each pedal though, it's hard to make a choice because they both have serious perks or advantages that are worth paying attention to. As I said, the Whammy V's polyphonic sounds, true bypass circuit, and just the general way it sounds and feels make it a winner to me, but many swear by the EHX Pitchfork.
DigiTech Whammy vs EHX Pitchfork – The Main Differences
Pitch Shifting Pedals

Pros

Cons

DigiTech Whammy V




1) Ostensibly better at lower pitch notes
2) Has monophonic/polyphonic switching (commonly referred to as Classic/Chords – also "glitchy" and "non-glitchy")
3) Comes with a high-quality expression pedal that many users love, ie, sturdy, reliable, responsive, and it's possible to calibrate (my guide on that).
4) Has MIDI Control Capability
5) Often described as superior at tracking
6) The Whammy is a true bypass pedal
7) It's purportedly better at shifting and harmonizing chords (polyphonic)
8) Has a certain "mojo" or classic "whammy" sound that other pitch-shifters do not have.
9) Price difference – because you don't have to buy an expression pedal with it.
10) Supposedly less noise
1) Doesn't have dual-mode (one octave up and one octave down at the same time)
2) Does not have a blend knob (that mixes dry and wet signals)
3) Needs a high mA current draw (250mA or more, although, most high-quality power supplies like the Pedal Power 3 and Isobrick have no trouble powering it)
4) It can't go up 3 octaves, but it can go down 3 octaves (called Dive Bomb)
5) Takes up a lot of room on your pedalboard
6) Can't run off a 9V battery

Electro Harmonix Pitchfork





1) Has a dual-mode for tracking, ie, you can create a harmony with one octave up and octave down from your original guitar signal simultaneously.
2) Has a blend knob (between dry and wet)
3) Doesn't need as much current (only requires 30mA which isn't a lot)
4) Can go up or down by 3 octaves
5) The Pitchfork is significantly smaller
6) Many people say it looks cooler
7) Can run off a 9V Battery
8) Less money if you don't need an expression pedal (or already have one)
1) Ostensibly doesn't sound as good as the DigiTech Whammy V With lower pitch notes
2) You'll probably have to buy an expression pedal for it, at least if you want the ability to rock back and forth as is possible with the Whammy
3) The Pitch Fork is not a true bypass pedal
4) Can't switch between monophonic and polyphonic
5) No MIDI Control
6) Not as good at playing "Whammy-classic" songs like "Killing in the Name" or "Becoming"
7) Ostensibly not as good with chords
8) Some people say it has "noise issues"
For a side-by-side comparison between the EHX Pitchfork and the DigiTech Whammy V, have a look at the video down below.
For the following section, I'm going to dive into the details of each perk and the advantages of the pedals to give you a better idea of what you're getting with them.
Features & Perks The Whammy Has That The Pitchfork Does Not
1) True Bypass
One of the features that the DigiTech Whammy V has that the Electro Harmonix Pitch does not is true bypass.
True bypass, in case you don't know, describes a part of the guitar pedal's circuitry that allows the guitar signal to be routed directly to the guitar amplifier, or to the next pedal, without any interference, buffering, or other problems, all while the pedal is turned off.
Explained in a more nuts-and-bolts fashion, guitar pedals can cause hissing, buzzing, and other sounds and interferences. Sometimes they can even cause latency. Another thing people describe is "tone-suck," which means you lose some of the desired guitar tones.
By having a true bypass circuit, you can disengage or bypass the pedal completely from your signal chain, allowing the guitar signal to flow onto the next pedal without interruption or buffering.
In my view, the fact the Whammy V is a true bypass and the Electro Harmonix Pitchfork is not, is a solid check on the board for Whammy V over the EHX Pitch Fork.
2) Default Expression Pedal (Don't Need to Buy One)
Another solid win over the Electro Harmonix Pitch Fork is the Whammy V's inclusion of an expression pedal. This is probably part of the reason why it's a bit more expensive. If you get the Pitch Fork, you'll have to go out and buy an expression pedal to control it.
this can get expensive (although it doesn't have to be). Price varies a lot, depending on the manufacturer and the model. One of the more reliable expression pedals is this one from Boss (on Amazon).
A lot of people really like the Whammy Pedal's expression pedal though because of its reliability, sturdiness, and the fact you can calibrate it exactly to your liking if you want to.
3) Classic/Chords (Monophonic vs Polyphonic Switching)
With the Classic/Chords feature, you can switch between the old school DigiTech algorithm that was used on the Whammy IV, as well as the new one. The old algorithm is monophonic, which means it's best served for single notes.
But the newer one has a polyphonic switch that serves best for multiple notes at the same time. Basically, with the Classic/Chords switch, you can alternate between the old and the new, the original and the modern.
4) MIDI Control Capability
The DigiTech Whammy pedal, including the 4th generation model that I'm holding in my hand in the image here, has the ability to be controlled by another device. For instance, you can use a MIDI-enabled electric keyboard to control the settings on the Whammy.
The Whammy V and the Whammy DT also have these features, whereas the Pitchfork does not have that capability.
5) Arguably Better at a Lower Pitch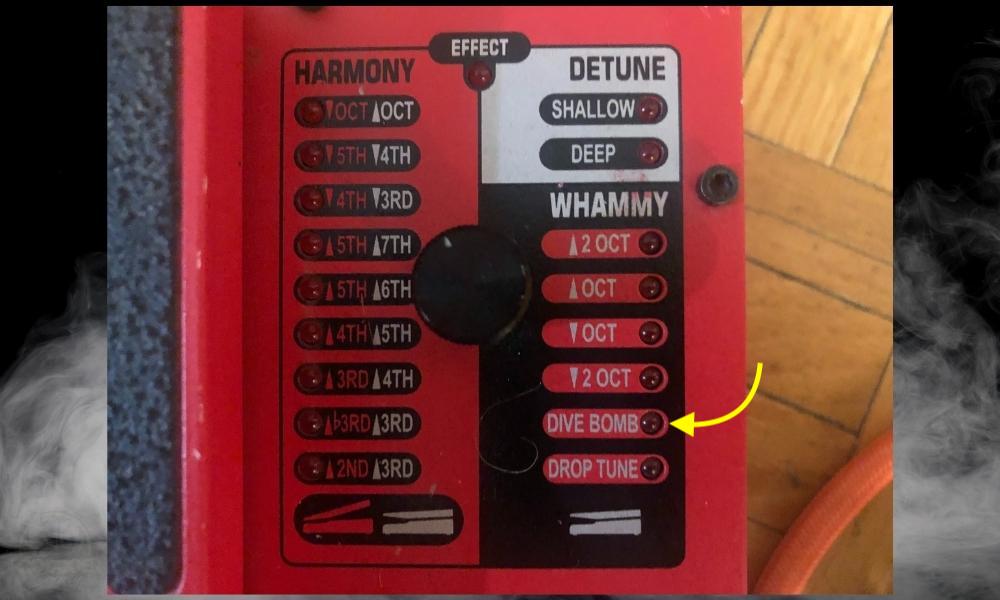 Some users have stated that the DigiTech Whammy V handles lower-pitched noises better than the EHX Pitchfork, including in this thread, describing it as having a "certain clarity" that the Pitchfork does not have.
On the other hand, there are some other people who argue that the dual-mode and the ability to blend wet and dry signals make up for this.
6) Supposedly Handles Chords Better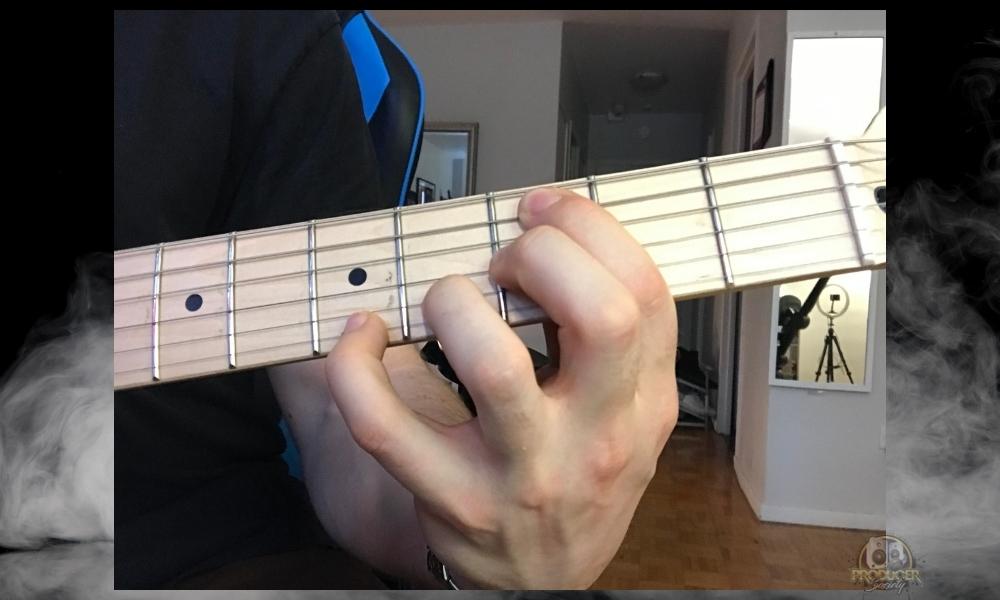 The Whammy V, as I've said in my definitive guide to the Whammy, has the ability to switch between monophonic and polyphonic, which are described as "Classic/Chords" on the device. A lot of people love the polyphonic feature on the Whammy V.
A Reddit user here says that the polyphonic chords' tracking on the Whammy V is better than that of the Pitchfork, and several people agreed.
7) Price Difference
The Electro Harmonix Pitch Fork is typically cheaper than the Whammy V, but it ultimately depends on whether you already own an expression pedal or not, or if you choose to go out and buy one.
My personal preference is the Whammy V (the Whammy Drop Tune as a matter of fact) because I hate the idea of having to buy yet another pedal just to work another pedal at its maximum potential.
It's a bit annoying to me, but what do I know? What I will say though is that it seems to be fairly difficult to get your hands on a Digitech Whammy at the moment.
This could be because of the global virus, the recent takeover of DigiTech by Harman, and the subsequent takeover by the Cor-Tek corporation, or perhaps some other circumstance I'm unaware of.
However, this doesn't mean it's impossible to get. You can find it on Thomann easily at the link I showed earlier and Sweetwater has them too. You can check the price of each peal on Amazon and Thomann at the links shown below:
The DigiTech Whammy V (on Amazon/Thomann) and the Electro Harmonix Pitchfork (on Amazon/Thomann)
8) Arguably Better At Tracking
This one's up for debate, but a lot of users say the Whammy V and the Drop Tune have slightly better tracking. Although, not everyone makes that case. There are some people who say the Pitch Fork does a better job.
For example, there are several people on this Reddit thread who make that case, and there are some others who make a similar argument here too.
Websites such as Equipboard have made a similar claim about the Whammy's tracking, stating that there is very little latency and the Whammy has no problem at all with tracking even the fastest passages.
This is certainly my experience, and I'm still using the Whammy IV which is a step below the Whammy V, in my opinion, in terms of features and functionality.
9) Supposedly Less Noise
The guy in the video above shows how there is a slight hissing sound on his Electro Harmonix Pitchfork. It's not entirely clear if this is a problem with his set-up (which is pretty sophisticated-looking), or with the pedal itself.
But other users have reported a similar phenomenon on The Gear Page which I already linked to before. On an unrelated note, I've encountered this same "hissing" problem with the MXR 10-Band EQ (the old black one, not the upgraded and updated silver one).
I think with some pedal re-arranging as well as my trouble-shooting guide, you may be able to get rid of those problems right off the bat, but not always. For instance, even putting a solid noise gate after my ancient MXR 10-Band EQ doesn't fix it, although, it certainly helps.
Features & Perks The Pitchfork Has But The Whammy Does Not
1) Blend or Mix Knob (For Mixing Wet and Dry Signal)
I've mentioned t already, but the mix knob, or the blend knob, which mixes between your regular guitar tone and the signal affected by the pedal, is a defining feature that makes a lot of people choose the Pitchfork over the Whammy.
It makes sense for people who want more control over how the pedal actually sounds compared to the Whammy. You can get a lot more creative with the blend knob, and people describe it as being more "versatile" as a result.
2) Dual Mode (One Octave Up and One Octave Down)
The same thing goes for the Pitchfork's "Dual Mode," which, in effect, allows you to pitch shift switch between upward, downward, or both relative to the original guitar signal. In effect, dual-mode creates two pitch-shifted signals.
This is another feature on the Pitchfork that gives you more options in terms of how you want things to sound on your device.
3) Much Smaller Size (Arguably More Pedalboard Friendly)
A lot of users also state that because the Whammy V takes so much power and space on your pedalboard, it is somewhat of a nuisance compared to a more pedalboard-friendly, less power-hungry, compact device like the EHX Pitchfork.
While I can see that as being the case for a lot of people, it wouldn't be for me, simply because I would have an expression pedal to go along with the Pitchfork. And the thing is, once you've added an expression pedal, it takes up around the same amount of space.
I also don't care too much about power demands either, considering I have the MXR Isobrick which I got on Amazon a while back. The "space" issue is one of those things that's ultimately up to your preferences and what other gear you're running.
4) Goes Up or Down 3 Octaves
Another feature some people like about the Pitchfork is its ability to +/3 octaves. To my ears, going up by 3 octaves is usually too much, but again, this is up to personal taste.
If you would like more control over your pitch, then the Pitchfork is probably what you're after. For me, I think messing around with just 2 octaves up and 3 octaves down with the Dive Bomb setting is enough.
5) Doesn't Require As Much Current (mA)
A lot of people define the current draw as a factor for why they prefer the Pitchfork over the Whammy V, however, as I said earlier when I was talking about the "space" issue, I don't care so much about this either.
If you're using a great power supply like the aforementioned Isobrick or the Pedal Power 3+ from Voodoo Labs, you may not care so much about this factor. However, there are users where this is an issue.
6) Can Run Off A 9V Battery
I hesitated to include this on the list as a "perk," but there may be some people out there where this is, in fact, an advantage of the pedal.
As I said in my comparison guide between power supplies and batteries, digitally-based pedals don't benefit from 9V battery usages like the way certain analog pedals do, ie, fuzz, distortion, gain, and wah pedals.
Fuzz, wah, and other pedals like that can actually benefit a lot from Carbon-Zinc 9V batteries over alkaline 9V batteries, but the Pitchfork is not one of these pedals. For that reason, I don't see why a person would like to use a battery in this pedal.
Although, on the other hand, because it only has a draw of 30mA, you could get a decent amount of battery life from a regular 9V alkaline battery (not carbon-zinc) – at least according to my understanding/experience (my guide on battery-powered pedal life).
7) Has "Latch Mode" – Footswitch Only to Engage Effect
And finally, there is the "Latch" button, which allows you to switch between Dry and Wet very quickly. In simple terms, this button, when activated, means that the effect of the pedal can only be heard on your guitar signal when you're engaging the foot switch.
This gives you a bit more control over how you want to affect your signal. For instance, if you just need harmony for a few seconds, this may be something you would use.
Other Articles You May Be Interested In
Gear Mentioned
1) DigiTech Whammy V (on Amazon/Thomann)
2) Electro Harmonix Pitchfork (on Amazon/Thomann)
3) Boss Expression Pedal (on Amazon)
4) MXR Isobrick (on Amazon/Thomann)